Follow us on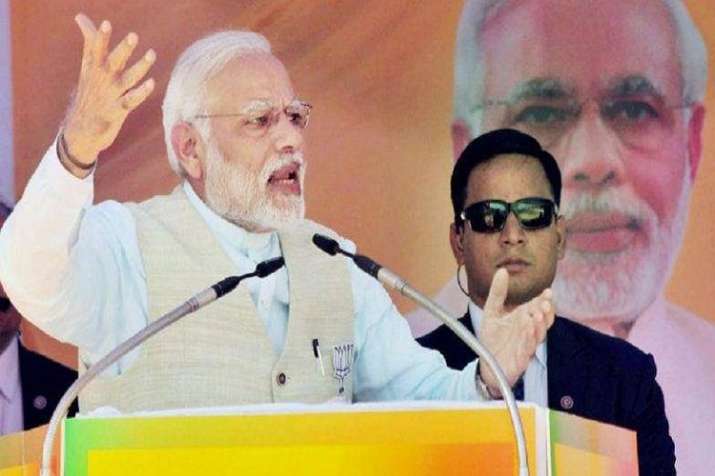 Prime Minister Narendra Modi on Wednesday launched a blistering attack on Congress over the 2012 AugustaWestland Chopper scam. Addressing a poll rally in Sumepur district, Rajasthan PM Modi referred Christian Michel, the alleged middleman in the scam as the 'raazdaar' of the 'naamdaar' Congress Party. PM Modi has often referred Congress President Rahul Gandhi as 'naamdaar' and himself as 'kaamdaar'.
Lashing out at the Congress, PM Modi said; "We brought back the raazdaar (secret holder) of the 'naamdaar' (Congress) party.  Now even we don't know what deep troubles his statements are going to cause to Naamdaars".
Earlier on Tuesday in a 'big victory' for the BJP government ahead of the upcoming Assembly Elections and 2019 Lok Sabha Polls, Christian Michel was brought back from Dubai to Delhi by the CBI. The operation code-named 'Unicorn' was carried out under the guidance of National Security Advisor Ajit Doval and being coordinated by interim CBI Director M Nageswar Rao. A team of the agency's officers led by Joint Director Sai Manohar was in Dubai to bring him back.
Michel will be produced before Delhi's Patiala Court on Wednesday.
The AgustaWestland case involves a deal to purchase 12 luxury helicopters for use by President, Prime Minister, former prime ministers and other VIPs. It was alleged that Michel had entered into a criminal conspiracy with co-accused persons, which included the then IAF chief SP Tyagi and his family members, and the public servants had abused their official positions by reducing service ceiling of the VVIPs helicopter from 6,000 metres to 4,500 metres.
The reduction in ceiling made AgustaWestland eligible for contract worth 556.262 million Euros, which was awarded to it by the Defence Ministry on February 08, 2010, for procurement of 12 VVIP helicopters.
Michel's alleged involvement in the chopper deal surfaced in 2012 as a middleman for swinging the deal in favour of AgustaWestland and for making illegal payment of commissions or kickbacks to the Indian authorities. A charge sheet was filed against him in September last year.
According to CBI, Michel has been alleged to be a "historical consultant" of the AgustaWestland helicopters in the UK with technical operational knowledge of the aircraft, the military bases and the pilots. He orked with the company since the 1980s and before that his father had also been a consultant of the company for the Indian territory.
He was allegedly a frequent visitor to India and was operating as a middleman for defence procurement through a wide network of sources cultivated in the IAF and the Defence Ministry at different levels, including through retired and serving IAF officials, the CBI in its statement said.
"...He was updating and informing the management of Finmeccanica and AgustaWestland, namely Giuseppe Orsi and Bruno Spagnolini and others, about his efforts in India for securing supply contract of VVIP Helicopters," the statement said.
In July 2006, AgustaWestland's commercial manager Renzo Lunardi had proposed that Michel will join other middlemen Ralph Guido Haschke and Carlo Gerosa in carrying out "scouting and monitoring activities" with regard to the acquisition of helicopters in India, keeping in view of his "knowledge of Indian military operational mechanism", it said.
During that meeting in Italy, they had negotiated a comprehensive fee equal to 7 per cent of the supply contract amount to cover the expenses and their payments.
Michel allegedly entered into 12 contracts through two of his firms -- London-based Global Trade and Commerce and Dubai-based Global Services FZE -- with Finmeccanica to camouflage and legitimise the alleged bribe received by him for clinching the deal, the CBI said.
Michel was behind bars in Dubai since he was arrested and sent to custody pending the legal and judicial procedure in the UAE.