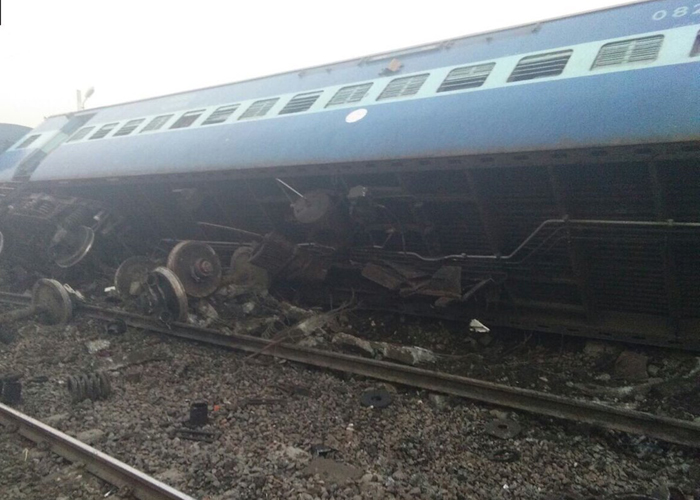 Three people died and nine were injured after 13 coaches of Vasco Da Gama Patna Express train derailed near Uttar Pradesh's Manikpur in the wee hours of Friday. The train was travelling from Goa to Patna.
Railway Minister Piyush Goyal has announced ex-gratia compensation of Rs 5 lakh each to kin of those dead and Rs 1 lakh for those seriously injured.
Soon after the incident, UP ADG (law and order) said, "Prima facie the cause of accident looks like fractured railway track after local assessment".
According to initial reports, the derailment of train no. 12741 took place near Manikpur railway station in Chitrakoot district of Uttar Pradesh at around 4.22 am today. Vasco Da Gama-Patna Express has left for Patna with seven bogies, reports said.
"Railway Minister Piyush Goyal has given instructions to the administration to effectively undertake relief and rescue operations and provide best medical facilities to the injured. He has also directed chairman of Railway board, who was touring in that area on an official duty, to cut short his tour and reach the accident site," Indian Railways PRO Anil Saxena said.
2 dead and 8 injured in Vasco De Gama Patna express train accident near UP's Banda pic.twitter.com/8Q2f6rRdBP

— ANI (@ANI) November 24, 2017
Meanwhile, rescue operations are on and the injured have been rushed to nearby hospital. "The injured have been rushed to the hospital and officials have left for the spot. Relief operations are underway," North Central Railway PRO Amit Malviya said.
#vascodagama Train Accident #Chitrakoot Importent Numbers #uppolice pic.twitter.com/pJjjlAAiZS

— UP POLICE (@Uppolice) November 24, 2017
He further said that soon after the accident, a medical train reached the spot and by 5:20 am, an accident relief train was dispatched for the spot.
The divisional railway manager (DRM), Allahabad has already reached the spot while the General Manager, NCR is on his way, he said.
This comes a day after four people were killed and two others injured when a train hit their vehicle at an unmanned level crossing near Amethi, the police said.
UP train derailment: CM Yogi Adityanath announces Rs 2 lakh compensation
Uttar Pradesh Chief Minister Yogi Adityanath on Friday announced compensation of Rs 2 lakh to the family members of those killed in train derailment. The chief minister has also declared Rs 50,000 for each of the seriously injured and Rs 25,000 for those who suffered minor injuries, an official release said.
Expressing grief over the death of passengers, the chief minister conveyed his sympathies to the families of the victims and wished speedy recovery to those injured. The chief minister directed officials to ensure adequate and speedy treatment of the injured, an official release said.
HELPLINE NUMBERS:
Allahabad: 0532-1072,0532-2408149,2408128, 2407353
Mirzapur: 05442-1072,05442-220095, 220096
Chunar: 05443-1072, 05443-222487,222137,290049