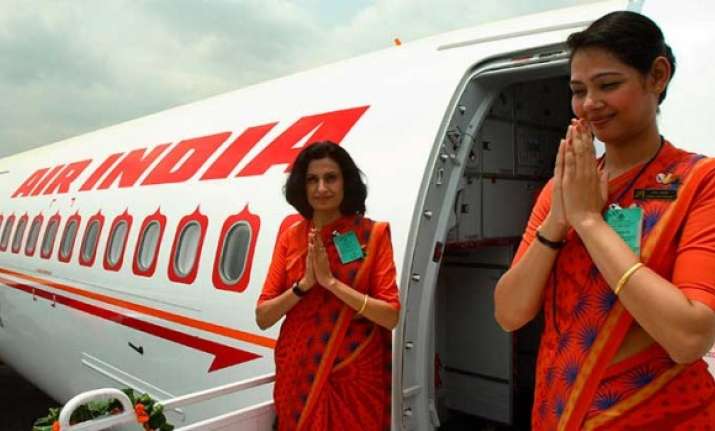 Air India on Wednesday took a dig at the IndiGo Airlines following the incident of a passenger being manhandled by the latter's ground staff which made the national headlines. 
The flag carrier airline released two Twitter ads taking a jibe at the embarrassment faced by the low cost carrier, after a video went viral on Tuesday showing its ground staff manhandling and assaulting a passenger at Delhi Airport. The incident took place on October 15. 
The first ad says, "We raise our hands only to say Namaste" and the second one simply said, "Unbeatable service" with beat in blue colour – associated with IndiGo – and rest of the alphabets in Air India's trademark red colour.
"We are only highlighting our unbeatable service. (If you link it to the ongoing IndiGo controversy) that is purely coincidental," AI spokesperson G P Rao said. 
The private airline, meanwhile, came in for criticism on Twitter for the last month's incident with some calling for its boycott.
"A no fly ban is a must on this airline till these guys are arrested with an attempt to murder #BoycottIndigo," tweeted Aditya Thackeray, the president of Shiv Sena's youth wing. 
"This kind of arrogant behaviour seems to have become the norm for @IndiGo6E. I hear of rude behaviour instances by Indigo on regular basis," BJP leader Shahnawaz Hussain posted on the microblogging site. 
Former Chief Election Commissioner S Y Quraishi tweeted, "After seeing the brutal assault on a passenger, almost throttling him to death, should Indigo not be boycotted – at least for a month?" 
"Hey @IndiGo6E, my aged parents are flying a couple of weeks later. Given the recent incident involving a senior citizen, can you guarantee their safety, or shall I rebook them on a different carrier," asked Amrit Panigrahy. 
"Cancelled my #indigo flight to jet. Better food and less chances of getting beaten up," posted Meenu Arora.
 
"First @Pvsindhu1 and now this ..I am not traveling @IndiGo6E till they apologise," wrote another Twitter user.
 
The airline was also the butt of jokes on social media. 
"Have enrolled for kalari payattu classes. Have an Indigo flight 3 weeks later," tweeted Ushy Mohan Das. 
Civil Aviation Minister Ashok Gajapathi Raju has sought an independent inquiry into the incident from the Directorate General of Civil Aviation. 
IndiGo has also written to the ministry apologising for the incident and admitting that it was at fault. 
However, it defended the employee seen in the video entering into a brawl and said "he was doing his work" and trying to ensure the safety of the passenger.