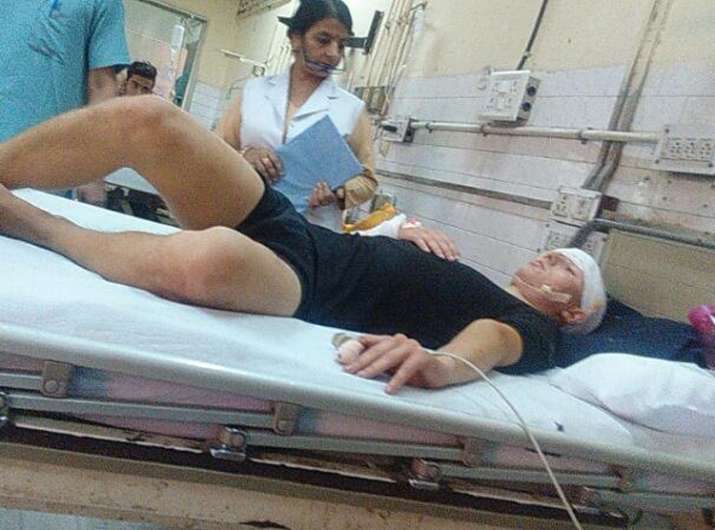 Two accused were arrested for allegedly attacking a 19-year-old German national with surgical blades and robbing him of his wallet and cell phone in north Delhi's Kotwali area on Friday. 
Following the attack, External Affairs Minister Sushma Swaraj had sought a report on the matter. 
"I have asked for a report on the attack on German national in Delhi. I have asked Delhi Government to provide him best medical treatment," she tweeted yesterday. 
Later, she also tweeted about the arrest praising Delhi Police "The two accused wanted for attack on German national have been arrested. Good work by @DelhiPolice. @rajnathsingh @LtGovDelhi," the minister tweeted. 
The two accused -- Rizwan alias Irfan and Raj Kishore -- were arrested on Saturday evening from Brahmpuri area in Shahdara, said Deputy Commissioner of Police (North) Jatin Narwal. 
The stolen items -- the wallet containing Rs 9,000 cash and the cell phone -- were recovered, police said. 
According to the police, the incident took place at around 10.26 PM on Friday near the Geeta Colony flyover. 
The victim, Benjamin Janis Schult, had taken a cycle rickshaw from outside Chandni Chowk metro station to go to a bus stand for boarding an Amritsar-bound bus. 
However, Rizwan, the rickshaw-puller kept cycling around different lanes in the area and also asked an accomplice to board the vehicle. 
"Rizwan told the tourist that he is his friend. They kept on roaming around and when the tourist asked him where he was taking him, the rickshaw-puller replied in English saying, 'I am taking you to the right place'," a police officer said. 
They took the German national to a secluded spot beneath the Geeta Colony flyover where they attacked and robbed him. 
"Rizwan and Raj Kishore attacked him with surgical blades. He suffered injuries to his face and elbow. They snatched away his wallet containing around Rs 9,000 and his cell phone," said the officer. 
However, Schult, who is trained in martial arts, managed to fight off his attackers and even escaped from them. 
He climbed the flyover and stopped and boarded a passing car. A fitness instructor from Noida, who was returning from Panipat in his car, came to the aid of the German national. 
They met a police team on the way which rushed to the spot of the attack but found that the accused had fled. The rickshaw had been seized from the spot. The rickshaw didn't belong to the accused and police traced its owner. 
He was questioned and they got clues to the accused but didn't find their full address. 
However, they questioned locals and the accused were found and nabbed after a chase in Brahmpuri area, police said. 
It is suspected that the accused deliberately targeted Schult since he is a foreign national and is unaware about Delhi's roads, police said. 
Further investigation is underway. Rizwan had previous criminal involvements as well. He was earlier arrested twice in Pilibhit in Uttar Pradesh. 
Police said Schult is in India on a tourist visa. He has been visiting various places since last month and is staying at a guest house in Laxmi Nagar area here. 
Schult, who didn't sustain grievous injuries, has been discharged from hospital after treatment. 
Noida man comes to aid of German national in distress
A fitness instructor from Noida came to the aid of Schult after he had been attacked and robbed.
It's often that one hears of tales of insensitivity of people to those in distress, but Rajeev Goswami didn't think twice before stopping his car to help Benjamin Janis Schult. 
"Since I keep travelling abroad, I understand the situation one might be in when they are robbed in a foreign country. I didn't think about fulfilling legal formalities or anything else at that time," he said. 
"Last night, my friend and I were driving from Panipat towards Noida when we saw an injured man running and seeking help, Goswami recalled. He was bleeding from his elbows and hands. He was in distress and was saying, 'Someone has robbed me'. My first concern was to take him to the hospital and help him in any way possible," said the Noida-based fitness instructor. 
Goswami made a PCR call and made Benjamin speak to police and took him to Doctor Hedgewar Aarogya Sansthan in Karkardooma. 
"I was literally in tears seeing his condition. He went through an unfortunate incident but I didn't want him to take back bad memories and this was a small gesture from my side. 
At least, he would see something positive amid all the negativity that he faced," said Goswami. 
The Noida-based fitness instructor was also praised by police for helping out the German national in distress.