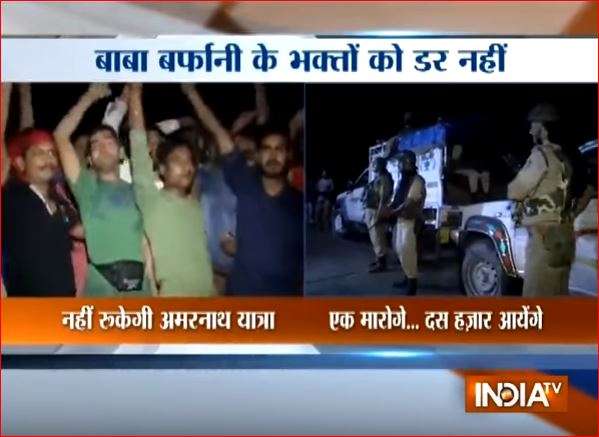 Despite the dastardly terror attack claiming the lives of seven Amarnath yatris on Monday night, undaunted  pilgrims continue to visit the cave shrine amid tight security.
A fresh batch of around 3,800 yatris today left Jammu for the Himalayan cave shrine at around 4am in the morning in an escorted convoy.
 "Another batch of 3,791 yatris left the Bhagwati Nagar Yatri Niwas in 101 vehicles, including 55 buses and 46 light motor vehicles for the valley around 4 a.m. today (Wednesday) in an escorted convoy," the Jammu and Kashmir police said.
The annual 40-day long Amarnath Yatra has continued uninterrupted despite Monday's terror attack in Khanabal area on the Jammu-Srinagar highway in which seven pilgrims were killed and 19 others were injured.
The attack was carried out despite deployment of a multi-layered security cover provided by nearly 35,000 security men drawn from the Army, Central Reserve Police Force, Indo Tibetan Border Police, Sashastra Seema Bal and the state police.
Authorities said the bus attacked by the terrorists was moving after the security deployment was withdrawn at 7.30 p.m. and the attack had taken place at 8.20 p.m.
It was also said that the bus and its pilgrims were not registered with the Shri Amarnathji Shrine Board (SASB) that manages the affairs of the annual Yatra.
Meanwhile, a report in The Economic Times said that the security forces and J&K Police are now mulling over providing security cover to even private vehicles along the Amarnath yatra route that are not part of the official convoy.
The report added that the security forces are also reviewing  whether the road opening party (ROP) should be retained for longer and night domination strengthened in the wake of the recent terror attack.
So far, 1.57 lakh pilgrims have performed the Yatra and paid obeisance inside the Amarnath cave situated 3,888 metres above the sea-level.
The shrine houses an ice stalagmite structure that waxes and wanes with the size of the visible moon.
Devotees believe the ice stalagmite structure called the 'Lingam' symbolizes mythical powers of Lord Shiva.
(With agency inputs)