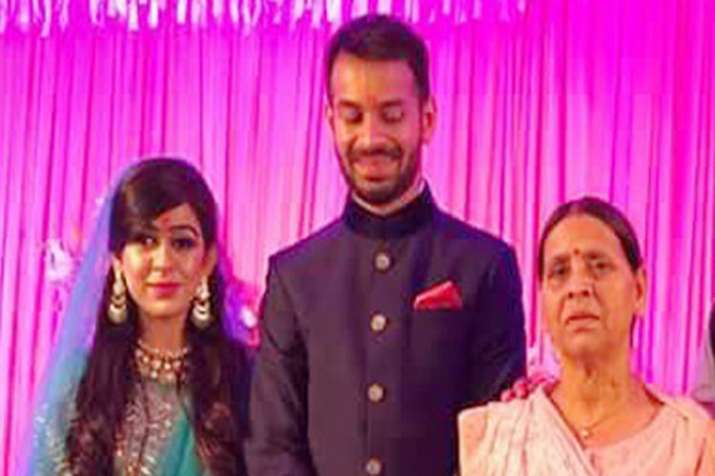 Upset over elder son Tej Pratap Yadav's divorce application, former Bihar CM Rabri Devi won't be celebrating Chhath puja this year, a Rashtriya Janata Dal (RJD) leader who is considered close to the Yadav family said. Tej Pratap has not returned home in Patna after meeting jailed father Lalu Prasad Yadav in Ranchi last week to discuss his decision of divorcing his wife. The former Bihar health minister has threatened that he won't return home unless his parents support his decision to divorce Aishwarya Rai.
"Rabri Devi will not celebrate Chhath this year because the family is worried over Tej Pratap's absence from Patna for the last one week," RJD leader Bhola Yadav told the media on Saturday.
Bhola Yadav said that the family has been trying hard to persuade Tej Pratap to return home soon, but to no avail. 
According to sources, Tej Pratap was camping in Haridwar after visiting Varanasi a few days ago.
Tej Pratap married Aishwarya, daughter of RJD legislator and former Minister Chandrika Rai and granddaughter of former Bihar Chief Minister Daroga Rai, on May 12 in Patna.
Tej Pratap filed for divorce in a Patna civil court on November 2 citing 'mental cruelty'.
With Rabri's decision not to celebrate Chhath - Bihar's most popular Hindu festival - people will miss a rare festivity at her sprawling official bungalow 10, Circular Road.
RJD leaders said that Rabri Devi's Chhath celebration is popular as politicians, irrespective of party affiliation, and people from all faiths and communities visited for the traditional 'prasad' during the festival. 
Last year, Rabri Devi had said she would celebrate Chhath only after her two sons - Tej Pratap Yadav and Tejashwi Yadav - got married. Tejashwi, the current Leader of Opposition and a former deputy CM, is the heir apparent of the RJD. 
(With inputs from IANS)