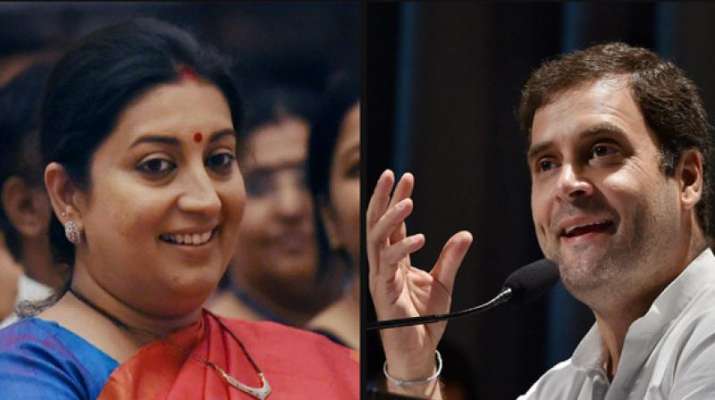 Accusing the Congress of creating hurdle in the judicial process in the Ram Temple, Union Textiles Minister Smriti Irani on Friday taunted Rahul Gandhi for wearing 'janeu' and his temple visits during campaigning for Assembly elections in Madhya Pradesh, Chhattisgarh and Rajasthan. 
Smriti Irani, who was on a day-long tour of Rahul Gandhi's Lok Sabha constituency Amethi in Uttar Pradesh, taunted the Congress president and said," Congress should not do politics through its lawyers on Ram temple issue, which is a matter of faith of people. It's leaders, as lawyers, are creating hurdle in the court. People and Ram bhakts should ask the party whether its leader wore 'janeu' only for polls in three states."
Attacking Gandhi for apparently delaying his visit to Amethi by a few hours, she said, "His coming late in 'maidan-e-jang' (battlefield) of Amethi is an indication that the person who cannot visit his constituency on time cannot give timely solutions."
"Jo paanch saal me ek baar aatey they, ab baar baar aana pad raha hai" (The person who used to visit his constituency once in five years is coming here again and again)," she told reporters on way to Amethi.
Irani said such was the pace of development in Amethi, thanks to Prime Minister Narendra Modi, the Congress leader felt nervous and was making frequent visits to the constituency to counter it.
She accused Gandhi of doing nothing for his constituency, which he has been representing for the past 15 years.
"If Rahul had done so much for Amethi, why his party lost in so many assembly segments of the Lok Sabha constituency in the 2017 assembly polls," she asked.
"Rahul speaks of development, but could not ensure it in his own constituency. In fact, he could not even get a CT Scan machine installed in Amethi, which the BJP government is doing today," she said.
(With inputs from PTI)