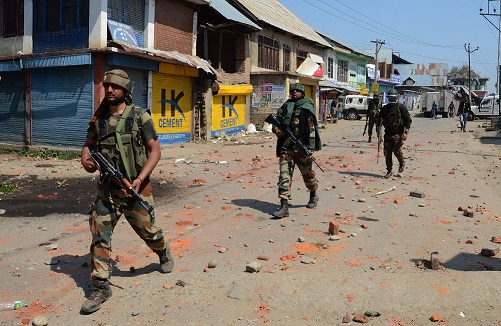 In the biggest anti-terrorism operation of 2018 in Kashmir, the security forces gunned down at least 12 terrorists, giving a major blow to the terror groups in the valley. Three army jawans sacrificed their lives in the counter-insurgency operations in three different areas in South Kashmir in which four civilians were also killed. 
In one of the worst rounds of armed clashes between the security forces and terrorists in recent years, the fighting took place in two places in Shopian district and a third spot in Anantnag district in southern Kashmir.
During the fighting, a large number of civilians poured out of their homes, leading to more trouble.
The Army, the Jammu and Kashmir Police and the Central Reserve Police Force said a total of 12 militants, three soldiers and four civilians lay dead at the end of the day.
One militant was killed in Dialgam in Anantnag district while one person was arrested there, a police officer said. 
Seven militants were killed in Dragad village of Shopian district and four in Kachdoora village in the same district.
"Three Army soldiers were martyred in these operations," a police officer said.
Four civilians were also killed in Shopian -- one at Dragad and three at Kachdoora.
Addressing a joint press conference at Awantipora in Pulwama district, Lt Gen A.K. Bhatt, Commander of the Army's Srinagar-based 15 Corps, said, "Today is a very special day for all our security forces."
Gen Bhatt said two terrorists responsible for killing Lt Fayaz when he was visiting his family on a holiday had been eliminated. Fayaz, posted in the Rajputana Rifles in Akhnoor, was abducted and killed by militants in May last year, when he had gone to attend a family wedding, and his body was found the next day. 
The killers of Lt Fayaz were identified as Ahmad Malik and Rayees Thokar, both of whom were among those shot dead in Dragad. 
"I appeal to youths not to get lured by weapons. Anybody who uses weapons will be dealt with in the same manner we dealt with the terrorists today."
Jammu and Kashmir Police chief S.P. Vaid said that at Dialgam, a Senior Superintendent of Police made a special effort to persuade the terrorists to surrender.
He summoned the family members of the two terrorists in a bid to persuade them to give themselves up.
"Instead of surrendering, one of the holed up terrorists opened fire and the security forces had no option but to kill him.
"The other one we caught alive. Operations are carried out most professionally by the security forces.
"Two Army jawans have been martyred in the operation while some others belonging to the Army, CRPF and police have been injured."
Meanwhile, internet services had also been suspended in all four south Kashmir districts. 
"Train services were also suspended as a precaution," an official said.
Srinagar city, he added, was by and large peaceful.
Authorities also ordered closure of all colleges and schools in the Valley on Monday as a precaution.
WATCH VIDEO: