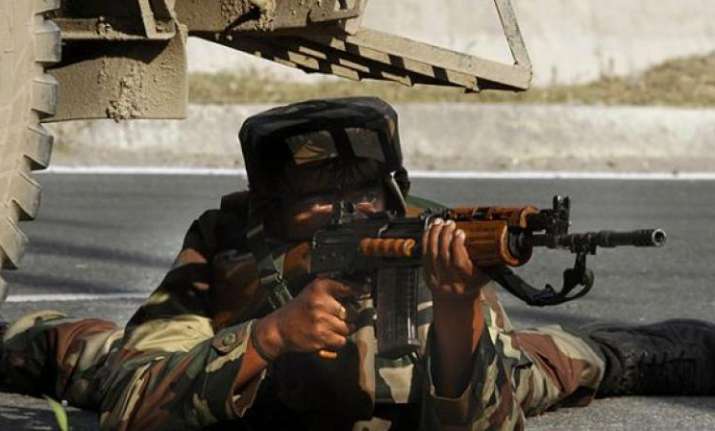 In one of the biggest anti-militancy operations in the Valley in this decade, the security forces gunned down at least 12 terrorists, including top commanders, while arresting another. Three Army jawans martyred during the operations.
Three encounters broke out in south Kashmir's Anantnag and Shopian district this morning. In all three cases, the terrorists were hiding inside civilian houses and fired at the police when they were requested to surrender, the police said.
Two civilians were also killed and dozens of others injured in clashes that broke out between protesters and security forces following three separate encounters in several parts of the region.  The police said that an ultra had also surrendered before the security forces in Anantnag district. 
At a hurriedly called joint press conference of army, police and CRPF, Jammu and Kashmir Police chief S P Vaid said this is one of the biggest counter-offensives in recent times against terror groups operating in the Kashmir Valley. 
The operations by security forces rendered a severe dent to militant groups such as the Hizbul Mujahideen and the Lashker-e-Taiba, officials said here. 
Three army jawans have lost their lives in the operations at Kachdooru in Shopian, officials said, adding that a total of 12 terrorists were killed, 
The operation has been called off at Kachdooru and the security personnel will search the debris tomorrow again, the officials said. 
Security forces launched anti-militancy operations last night at three places simultaneously in south Kashmir following information about the presence of a large number of terrorists there, a police official said. He said the terrorists had assembled at these places to hold meetings about their plan to carry out subversive activities, including targeting security personnel and political workers. 
Also read | Security forces kill one terrorist, nab another after encounter in Anantnag district
As it happened:
08:40 pm: Thirteen militants, 3 Army men and 4 civilians killed in 3 encounters in Kashmir: Officials
06:00 pm: Jammu and Kashmir Chief Minister Mehbooba Mufti expresses grief over the death of two civilians during security operations in Anantnag and Shopian districts.She also sympathised with those injured during these operations.
05: 12 pm: One more Army jawan killed in Shopian district taking toll to three, say officials.
05:10 pm: Three more bodies of militants recovered at Kachdooru of Shopian district taking toll from eight to 11, say officials. 
05:00 pm: Mobile Internet services suspended in the Kashmir Valley following encounters at Anantnag and Shopian's Dragad and ongoing encounter at Kachdoor.
03:00 pm: Out of the 8 terrorists killed, 2 terrorists were involved in the killing of Indian Army Lt Ummer Fayaz: Army
02:53 pm: One civilian was killed in Shopian's Dragad and one in Kachdoora. 25 civilians received pellet injuries and 6 received bullet injuries: SP Vaid, DGP
02:46 pm: Reports of clashes have been received from other parts of south Kashmir and some parts in the city as well.
02:43 pm: Encounters at two places has concluded, and undergoing at one place. Anantnag SSP made a special effort, he spoke to family members of terrorist to convince him to leave the path of violence, but the terrorist did not listen: SP Vaid, DGP, J&K on encounters in J&K's Anantnag & Shopian
02:42 pm: We caught one terrorist alive and one was killed, in Anantnag. Two army jawans lost their lives in the ongoing operation. Few J&K police, CRPF, and Army personnel have suffered injuries: SP Vaid, DGP, J&K on encounters in J&K's Anantnag & Shopian
12:30 pm: If final casualties in Kachdoora are confirmed, it will be one of the biggest anti-militancy operations in a single day, since 2010-11, when militancy started regaining a foothold in Kashmir Valley. The killings are a major blow for militants in south Kashmir, considered to be their stronghold. 
12:15 pm: The police have gunned down three terrorists in Kachdoora area of Shopian district. Three police personnel have reportedly received injuries in the operation.
11:30 am: Intense protests are going on near both the spots, and police and paramilitary forces have resorted to heavy shelling and pellet firing to disperse the crowd. Several civilians injured during the protests till now, at least one civilian was fatally injured.
11:00 am: J&K Police is yet to confirm the final identity of militants however, sources say top commanders including Zeenat-ul-Islam and Zubair were among the killed.
10:20 am: One terrorist was killed in Anantnag and another was caught alive. Encounters are underway in Shopian's Dragad and Kachdoora. Seven bodies of terrorists and a huge amount of weapons have been recovered in Dragad: Jammu And Kashmir DGP SP Vaid
10:20 am: In Shopian's Kachdoora 4-5 terrorists are believed to be trapped but some civilians are also trapped in the houses there and we are making efforts to rescue them: SP Vaid
09:30 am: 7 terrorists gunned down by security forces in Shopian's Dragad. 
09:00 am: Following the encounters, internet services in south Kashmir have been suspended to avoid protests.
08:00 am:  Another gunfight broke out in Kachdoora area of Shopian. The encounter in Kachdoora is underway and further details are awaited, the official said.
07:00 am: In Anantnag, the encounter broke out after security forces launched a cordon and search operation in Peth Dialgam area of the district in the early hours, a police official said. He said terrorist, identified as Rouf Bashir, was killed in the gunfight, while another was captured. Both the terrorists belonged to Hizbul Mujahideen outfit, the official said. He said some arms and ammunition have been recovered from the encounter site and the operation is over. At least two security personnel have sustained injuries during the encounter.
(With inputs from PTI)
Watch video: