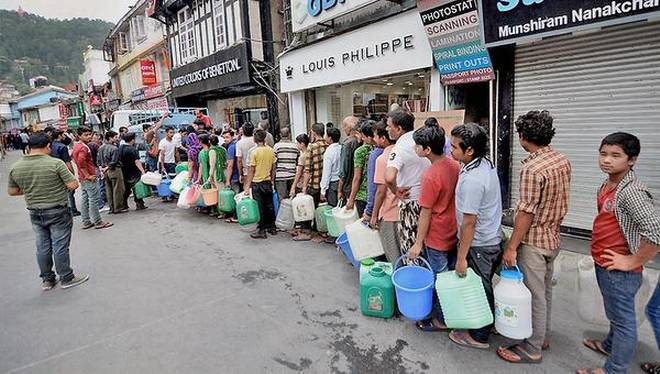 ​Beating of drums, corner meetings, sit-in protests -- both by elected representatives and residents -- and protests on social media were slowly increasing each day over the failure of the BJP-ruled civic body to supply adequate potable water to the state capital.
Taking up the cause, the Himachal Pradesh High Court has been monitoring day-to-day working of the Municipal Corporation and issuing diktats almost every day in past four days just to ensure equal distribution of water in the city.
Shimla is facing a water crisis since almost a fortnight now as a majority of localities are getting potable water once in a week, rued residents.
Acting tough, the High Court on Tuesday suspended all construction activity for a week and said no water would be supplied through tankers to the VIPs, including judges.
As the Himachal Pradesh capital reels under the worst water crisis in the recent years, Mayor Kusum Sadrate of the BJP, which came to helm of the civic body for the first time in three decades in June 2017, is away to China for official engagements.
Officials say the problem aggravated in Shimla, which is getting adequate funds under the Atal Mission for Rejuvenation and Urban Transformation (AMRUT), as the mercury rose abnormally high and natural water channels almost dried up.
A notable spike in footfall of the tourists is also blamed by locals for its shortage.
Planned by the British for a maximum population of 16,000, Shimla, now with a population of nearly 200,000, requires 42 million litres per day (MLD) water, but is currently only getting 18-20 MLD water.
Irate residents of Benmore area along with BJP first-time councillor Kimi Sood and former Mayor Narender Kataria staged a protest in front of Chief Minister Jai Ram Thakur's residence.
Another BJP councillor Aarti Chauhan alone sat on a hunger strike in front of the civic body's office, demanding fair distribution of water in all 33 wards.
Police said four people were detained on Wednesday night after a fight over water distribution in the Kaithu ward.
Beating of drums, a method adopted by the civic body to inform the residents about the arrival of a water tanker, is common these days.
The district administration is even providing police security along with the water tanker to avoid any untoward incident.
"The third World War for water starts from Shimla," reads a post by Shimla resident and entrepreneur Kavi Khanna on social media.
Even locals are requesting tourists to stay away from Shimla so their city can overcome the water shortage.
"Stop visiting Shimla!" a message went viral on social media.
"The residents are barely getting water to drink, and at a few places, sewage water is being supplied to the houses. And it'll only get worse as tourists throng to the place in large numbers during June," it reads.
Representatives of the hospitality industry told IANS that the tourist arrival was down by more than 50 per cent in the past few days owing to the water shortage.
"The Central government is also serious on water crisis in Shimla and sought suggestions from the state for solving this issue permanently. We are preparing a proposal in this regard," Health Minister Vipin Singh Parmar said in a statement.
Locals rue that Shimla is now synonymous with water scarcity -- both in summer and winter.
The civic authorities blame leakages in the distribution network, a significant portion of which goes back to the British days, and diminishing water resources that have been over-exploited to meet the increasing demand for the tourism industry.
(With IANS inputs)