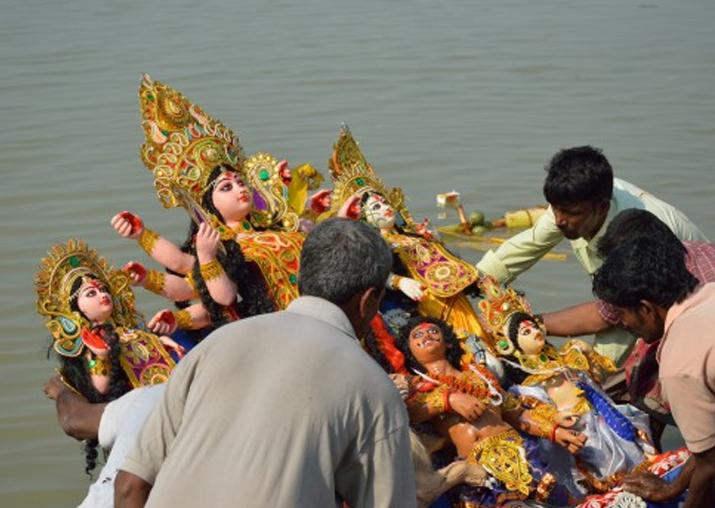 The Calcutta High Court on Thursday lifted the restrictions on Durga Puja immersion imposed by the West Bengal government, allowing it till 12 am on all days including on Muharram day. Terming the government's directive as 'arbitrary', the court asked the police to designate separate routes for Durga Puja immersion and Tazia on the occasion of Muharram in the city and ensure adequate security for the both the processions.
The government banned idol immersion after 10 pm on September 30 - Dashami when the Durga Puja ends. The Muslim community will mark Muharram on October 1.
"Immersion of Durga idols to be held on Muharram on October 1 which was prohibited by the West Bengal government," a division bench comprising Acting Chief Justice Rakesh Tiwari and Justice Harish Tandon observed while declining plea of West Bengal government for a stay.
The bench also directed the state government to put out advertisements giving information about the routes and also for ensuring amity and harmony between the communities. It asked the state authorities to file an affidavit on the prayers made by the petitioners within three weeks after the puja holidays and the petitioners to give their reply within another two weeks. The matter would come up for hearing again five weeks after the vacation. 
Yesterday, the HC had said that the government cannot hinder a citizen's right to practise religion on the basis of a mere assumption of law and order disruption and must provide sound reasons for doing so. It had told Mamata Banerjee to allow Hindus and Muslims live in harmony and do not create a line between them.
The West Bengal government had imposed restrictions on Durga idol immersions on September 30, the Vijaya Dashami day, after 10 pm and no immersion would be allowed on October 1, the day Muharram is scheduled to be observed.  The TMC government had even directed the police not to allow 'sashtra pujan' (weapon worship) during Bijoya Dashami in the state.
Earlier, Banerjee had asked the Vishwa Hindu Parishad (VHP), RSS and Bajrang Dal not to try to disturb peace in the state. Stating that her government did not put any curb on celebration of Vijaya Dashami rituals, Banerjee had said that there is misinformation campaign by certain outfits that we are stopping Vijaya Dashami celebrations at puja pandals and households.