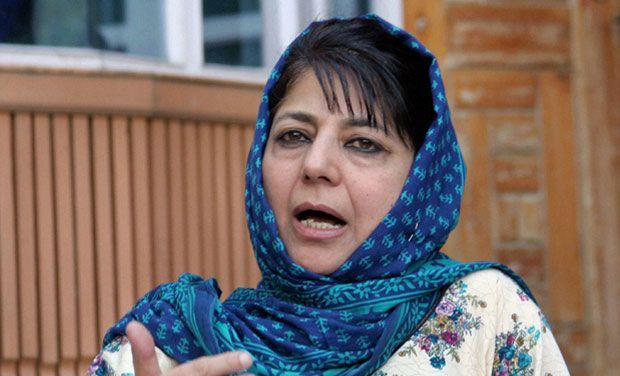 Former Jammu and Kashmir Chief Minister Mehbooba Mufti on Saturday urged the central government to reciprocate Imran Khan's peace gesture by accepting his offer for talks.
Mehbooba also asked the centre to pave the way for separatists to join the dialogue process.
"The Centre should respond positively to the peace talks offer made by Imran Khan," Mehbooba said while addressing a party gathering in Srinagar on the foundation day of her party.
"Way should also be paved for bringing the Hurriyat leaders on the table for holding a dialogue. I have said it when I was in power and I am saying it again when I am out of power."
The Peoples Demorcatic Party (PDP) chief said many people had been asking her why she lacked a smile on her face during the two years she was in power.
"Forming an alliance with the Bharatiya Janata Party (BJP) was like taking poison out of compulsion. But we took that decision in the larger interest of the state and the country," she said.
She said she had taken two months to decide whether or not she would continue the alliance because "politics for me had begun with my father and I had decided to end my political career with his death".
"It was because of continued persuasion by my party workers that I finally agreed to head the coalition government," she added.
She also said that promises made to people through the agenda of alliance that formed the bedrock of the PDP-BJP alliance were not fulfilled despite the party raising the issue continuously with the BJP.
Senior PDP leader and Lok Sabha member Muzaffar Hussain Baig was also present, along with other leaders including 20 sitting lawmakers out of its total of 28.
"Three of our MLAs are in Jammu and they shall be attending the foundation day function there, while another party MLA and leader Haseeb Drabu is presently in Mumbai," a senior party leader told IANS apparently to clear the air about any further dissension in the PDP.
Four PDP dissident MLAs -- Imran Ansari, Abid Ansari, Abbas Wani and Abdul Majeed Paddar -- were absent from the function.
(With PTI inputs)