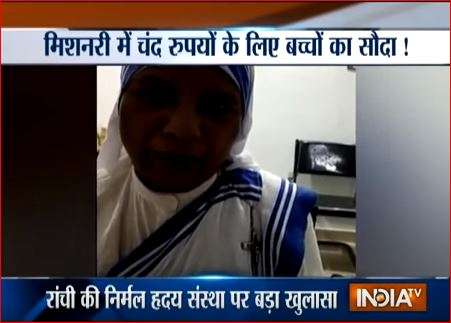 A sensational video has emerged that shows a nun and an employee of a Ranchi-based shelter house, Nirmal Hriday, run by Mother Teresa's Missionaries of Charity (MoC), confessing on camera that they illegally sold newly-born babies in lieu of money.
In the video, Sister Konsalia and employee Anima Indwar are seen as confessing that they sold three children for money and gave away the fourth child for free.
The deal, according to Anima, was sealed for Rs 1.2 lakh. The details of the entire deal is yet to come out but the veil has been lifted from this racket.
The video reveals that a nun, an employee and a guard of Nirmal Hridaya were involved in this racket.
Out of the four children, three were sold in Jharkhand while the fourth was sold in Uttar Pradesh.
The racket was exposed after a couple lodged a complaint with police after they were approached by the members of this racket for purchasing a baby.
Police investigation revealed that four children were missing from the shelter house out of which three have been recovered.
Senior Superintendent of Police (Ranchi) Anis Gupta said that Sister Konsalia, during interrogation, "confessed" that she had sold the three children to three people.
He, however, did not say how much money was taken for the alleged sale. 
The SSP said the children who had been sold were rescued by the police and a search was on the fourth child who was given away.
Sister Konsalia and Anima Indwar, an employee of the Nirmal Hriday, were arrested in connection with the sale of the babies. 
On Friday, they were sent to four-day police remand by the chief judicial magistrate court for interrogation. 
The MoC sister was arrested on July 5 for allegedly selling a child born to a minor inmate of the home to a couple from Uttar Pradesh. 
Anima Indwar was arrested on July 4. 
Watch: MoC nun confessing to selling newly-born babies for money