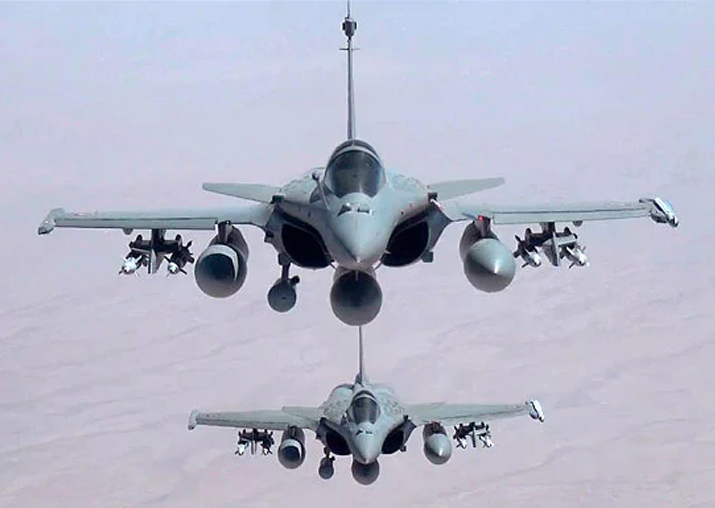 Chief of Air Staff Air Chief Marshal BS Dhanoa today rubbished the allegations of the Rahul Gandhi-led opposition over the purchase of 36 Rafale aircraft from France.
He said that the government has managed to negotiate 'a very good deal and that there was no overpricing'.
"It being a government-to-government contract, we are getting the 36 Medium Multi-Role Combat Aircraft (MMRCA) at a very negotiated price. It is definitely a better deal. It is lower than what was there in the MRMCA contract," the IAF Chief said.
The opposition has been attacking the government over the Rafale aircraft deal by accusing the government of compromising national interest and security while promoting "crony capitalism" and causing a loss to the public exchequer.
The Congress party has also alleged that the government neglected the interests of public sector Hindustan Aeronautics Limited (HAL).
When the IAF Chief was asked to specify the amount, he said, "I don't have the amount."
"We have purchased two aircraft in a flyaway condition as an emergency measure. We are getting 50 per cent offset. Technology may not be going to Hindustan Aeronautics Ltd (HAL) but it is coming to Defence Research and Development Organisation (DRDO) and then to lot of Indians," he said.
Dassault Aviation, the French manufacturer of Rafale aircraft, refused to transfer technology to it and instead entered into an agreement with Reliance Defence.
Asked if it was coming to Reliance Defence Ltd, he said, "I cannot answer that question".
Earlier today, Congress vice president Rahul Gandhi today attacked Prime Minister Narendra Modi over the Rafale agreement and asked the media why it didn't question him for allegedly changing the "entire deal" to benefit a businessman.
"You ask me so many questions and I answer all of them. I want to ask you, why don't you question Prime Minister Modi on the Rafale deal. Why don't you question the Prime Minister who changed the entire Rafale deal to help a businessman?" he asked.
Meanwhile, the BJP dismissed the allegation, claiming it was intended to "divert attention" as party bigwigs faced the prospect of being questioned in the AgustaWestland VVIP chopper scandal.
In a statement, Reliance Defence Limited dubbed the Congress' allegations as "baseless and unfounded".
It said its subsidiary formed a joint venture, Dassault Reliance Aerospace, after a bilateral agreement between two private companies and "the Indian government has no role to play in this".