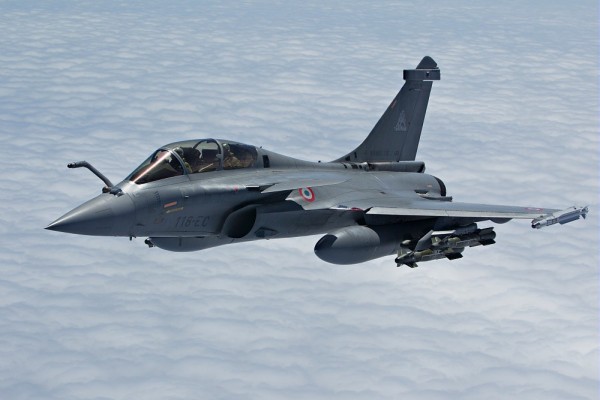 The mega deal for 36 Rafale jets between India and France is likely to be signed on September 23, reports said on Thursday. The Defence Ministry however has not given any official confirmation of the date. 
According to a report by NDTV, French Defence Minister Jean-Yves Le Drian will be in New Delhi for the signing of the deal.
According to sources, the deal is likely to cost 7.87 billion euros (Rs 59,119 crore), after a tough negotiation from the Indian side which also led to delay in finalisation of the deal. This includes weapons and spares, apart from 36 jets in flyaway condition. This also includes air-to-air Meteor missiles. 
About 50 per cent of the total cost will be covered under offset, which means either France will reinvest this amount in India or source equipment of this value from India, the report said. 
Sources in the government said two days ago that all the details of the much anticipated contract for jets had been finalised and work was now on for the Inter Governmental Agreement for the deal. 
According to sources, the Prime Minister's Office has pushed for concluding the deal early, after more than year-long negotiations, in which price was a major sticking point.
A "working team" from France is already in town with their own translators and are going through the contract, running into several thousand pages, with their Indian counterparts. 
The sources said that once the IGA is firmed up, the document will go back to the Cabinet Committee on Security for a final clearance. 
They said that India has been able to save over Euro 590 million through tough price negotiations which began in January this year. 
Though the deal could have been firmed up earlier, issues like pricing and offsets took time as India wanted a better contract. 
Following intervention by Prime Minister Modi late last year, France agreed for a 50 per cent offset clause. 
This means creating business worth at least three billion Euros for Indian companies, both big and small, and generating thousands of jobs in India through offsets. 
 
The delivery for the fighter aircraft is expected to begin in 2019, with an annual inflation capped at 3.5 per cent. 
Last month, a report submitted by a team negotiating the much-anticipated Rafale deal with France was cleared by the defence ministry. The file was then sent to the Prime Ministers office for review and clearance. 
Sources said the PMO had sought from Defence Ministry some clarifications on the life cycle costs and unit price of the aircraft which was replied to. 
In 2012, India decided to ink a deal for 126 Rafale jets.
As the deal could not work out, another deal for purchasing 36 Rafale combat jets in fly-away condition was inked during Prime Minister Narendra Modi's visit to France in April last year. Modi had announced that India would purchase jets in a government-to-government contract. 
Soon after the announcement, the defence ministry scrapped a separate process that was on to purchase 126 Rafale fighter planes, built by French defence giant Dassault Aviation. 
The weapon systems, part of the deal, will also include the new-age, beyond visual range missile 'Meteor', and Israeli helmet mounted display. 
The price of the deal was brought down from nearly 10 billion euros, as sought initially, due to various reasons including tough negotiation by India, the discount offered by the French government and reworking of some of the criteria. 
It is not clear if the price has been brought down further, but India has been keen on it.