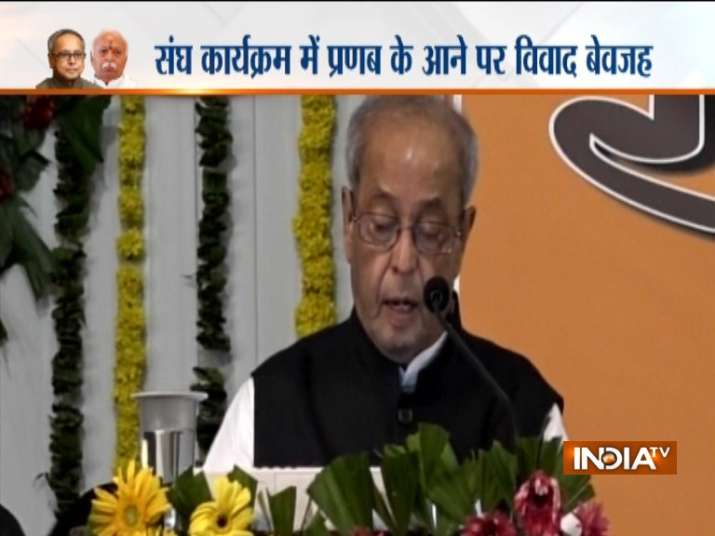 Former President and the Congress veteran Pranab Mukherjee on Thursday addressed the concluding ceremony of Rashtriya Swayamsevak Sangh's "Tritiya Varsh Sangh Siksha Varg" at Sangh headquarters in Nagpur. Earlier, he visited the birth place of the RSS founding Sarsanghachalak Keshav Baliram Hedgewar. Mukherjee was welcomed by RSS chief Mohan Bhagwat. 
Mukherjee, who reached Nagpur last evening, has been invited by the RSS to address its Shiksha Varg.  It is an annual training camp, meant for swayamsevaks in their third year in the organisation. The RSS holds training camps for first, second and third-year swayamsewaks. 
Here are the top quotes of Pranab Mukherjee's speech at RSS HQ: 
# Pranab Mukherjee describes Hedgewar as  great son of Mother India.
# I am here amongst you to share my understanding with you of the concepts of nation, nationalism and patriotism in the context of India.
# We see the whole world as one whole family and pray for the goodwill and happiness of all.
# Any attempt at defining our nationhood in terms of hatred and intolerance will lead to the dilution of our identity.
# Our national identity has emerged after a long drawn process of confluence and assimilation, the multiple cultures and faiths make us special and tolerant.
# It was this very nationalism that Pandit Nehru so vividly expressed in the book 'Discovery of India', he wrote, "I am convinced that nationalism can only come out of the ideological fusion of Hindu, Muslims, Sikhs and other groups in India.
# We can agree, we may not agree on a certain topic. But through dialogue, we have the ability to reach a conclusion showing each other equal and immense respect.
# As Gandhi ji explained Indian nationalism was not exclusive nor aggressive nor destructive.
# We do not consider anyone as our enemy and this is what makes India stand united.
# Secularism is a matter of faith for us, India is one entity consisting of four diverse directions.
# Our nationalism flows from our Constitution and this gives us the ability to self correct ourselves.
# India is emerging as the fastest growing economy in the world. But we do not rank well in the 'world happiness' report.