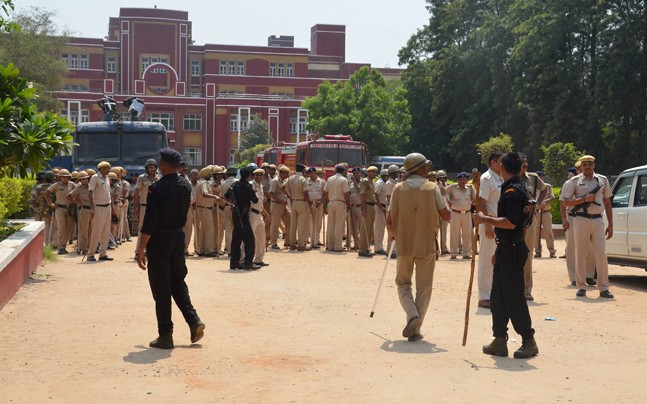 In a fresh twist to the sensational murder of seven-year-old Pradyuman Thakur at Ryan International School in Gurugram, the Central Bureau of Investigation (CBI) on Wednesday detained a class XI student of the school for questioning in connection with the student's brutal killing. According to CBI sources, the class XI student has confessed to the crime.
According to CBI, the class XI student allegedly killed seven-year-old Pradyuman to postpone the examinations that were underway as well as defer a Parent Teachers' Meet in school.
The student was produced before the Juvenile Justice Board, which sent the class XI kid to three-day CBI remand.
According to sources in the Central Bureau of Investigation, the student was seen with a knife inside the school campus on the day Pradyuman was killed with his throat slit in a school bathroom.
The detained student is suspected of having watched a pornographic clip in the morning, and on seeing Pradhuman Thakur in the school bathroom, he might have tried to sexually assault him when he entered it, minutes after he was dropped by his father.
However, the CBI sources have confirmed that there was no case of sexual assault on the deceased child.
"They (CBI) arrested my son last night. My son has not committed the crime. He informed gardener and teachers," said the father of the arrested student.
The CBI's claim goes in stark contrast to the theory floated by the Haryana Police in the course of its probe soon after Pradyuman's murder.  
The Haryana Police had earlier claimed that Pradhuman was killed by school bus conductor Ashok Kumar inside the toilet as the boy resisted a bid to sodomise him.
WATCH VIDEO: Ryan Murder Case: Arrested Class XI student confesses his crime, CBI investigation underway
While Kumar has been arrested, Pradhuman's parents and two other staffers have claimed that he was being made a scapegoat.
The development comes a day after the Supreme Court asked the Punjab and Haryana High Court to decide in ten days the anticipatory bail pleas of three Ryan International Group trustees in a case in which a boy was found dead in the group's Gurgaon-based school.
Seven-year-old Pradyuman was found dead inside a toilet of Gurgaon school with his throat slit on September 8.
WATCH VIDEO: Pradyuman Murder Case: My son is being wrongly implicated, he is innocent, says accused father