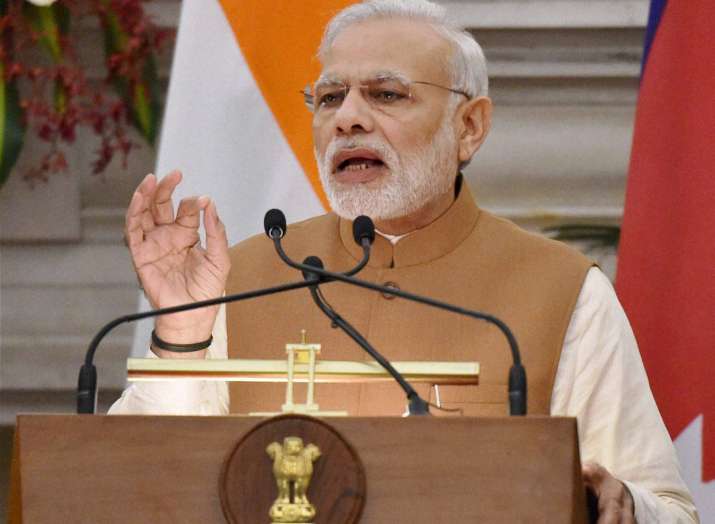 Even after two years since he assumed charge as Prime Minister, Narendra Modi still remains immensely popular in India. 
According to annual Pew Research Center's survey, Prime Minister's favourable rating remains high, at 81 per cent, even though its down from 87 per cent in 2015. 
Roughly half or more of Indians in the survey approve of Modi's leadership style: 56% believe he cares about people like them, 51% say he stands up for what he believes and 49% say he brings people together and gets things done.
"Two years into his tenure, Indian Prime Minister Narendra Modi continues to ride a wave of public good feeling about the way things are going in India, the state of the domestic economy and his own stewardship of the country," the report said.
Bruce Stokes, director global economic attitudes at Pew told TOI , "These figures are striking. Modi is doing better than Obama in the US or Angela Merkel in Germany."
However, Modi's Pakistan policy is approved by just 22 per cent, said the survey which was conducted in the months after the terrorist attack at the Pathankot Air Force base coming from across the border.
"Notably, more than half of BJP supporters (54 per cent) and a plurality of Congress party adherents (45 per cent) disapprove of the prime minister?s handling of relations with Pakistan," the report said.
More than three-fifth of Indians support use of military force to defeat the scourge of terrorism, according to the survey.
"With roughly half (52 per cent) the Indian public worried that ISIS poses a major threat to their country, about six-in-ten Indians (62 per cent) believe that overwhelming military force is the best way to defeat terrorism around the world. Just 21 per cent say relying too much on such force creates hatred that leads to more terrorism," said survey in its report.
The survey found two-thirds of the Indian public satisfied with the direction of the country and eight-in-ten think the economy is doing well
The survey also found that nearly seven-in-ten (68%) see their country gaining global prominence today than it did 10 years ago. By comparison, only about a fifth of Americans and Europeans (a median across 10 EU member countries) view their country as rising in importance on the global stage.
Interestingly, almost seven-in-ten Indians (68%) believe air pollution is a very big problem in their country. Nearly 73% of city dwellers are very concerned about air pollution, while roughly two-thirds (65%) of those living in rural areas agree.