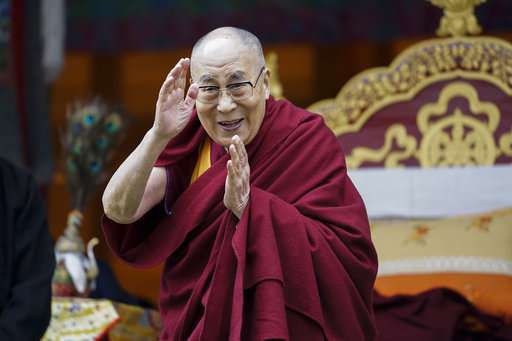 Tibetan spiritual leader the Dalai Lama today said that his followers, and not China, will decide whether the office of the Dalai Lama exits in the future.
Addressing a huge gathering of his followers at Tawang in Arunachal Pradesh, the Dalai Lama said that he had no knowledge of where his successor would be born.
Responding to a question on whether the next Dalai Lama could be a woman, the Dalai Lama said, "That might also happen."
According to Tibetan Buddhist tradition, senior monks identify a young boy as the  reincarnation of a late leader who is anointed as the next Dalai Lama.
The Chinese government, however, insists that it has the authority to appoint the Dalai Lama's successor after his death.
Tawang monastery is the second-highest seat of Tibetan Buddhism. It is the largest in the world after Potala Palace in Lhasa, Tibet.
It is also known in Tibet as 'Tawang Gaden Namgyal Lhatse,' meaning 'celestial paradise chosen by the horse'.
China has been making territorial claims over Tawang after it invaded and took over Tibet in 1950.
The Dalai Lama is on a weeklong visit to Arunachal Pradesh despite objections from China which has warned India that his visit will spoil bilateral relations between the two countries.
On Wednesday, the state-run Chinese media alleged that India is using the Dalai Lama as a diplomatic leverage to challenge China's "bottom line."