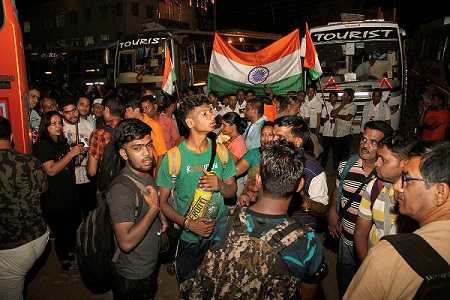 Over 1200 pilgrims paid obeisance at the holy cave shrine of Amarnath in south Kashmir Himalayas on Friday, before it was suspended due to incessant rains, leading to swollen rivers, streams and other water bodies in the Kashmir Valley. This prompted the authorities to declare flood in south Kashmir. 
The holy pilgrimage was suspended from both Pahalgam and Baltal routes due to heavy downpour in the last two days. 
The yatra was suspended due to heavy rainfall along the entire route to the cave shrine, an official of the Shri Amarnath Shrine Board (SASB) said.
He said 1,263 pilgrims had set off from the Nunwan base camp in the morning but were asked to halt at Sheshnag till the weather improved. 
"At the end of the second day of the Yatra, 1,287 pilgrims paid obeisance at holy cave," he added. 
The total number of pilgrims who have performed darshan of the naturally formed ice-lingam has now gone up to 2,294. Yesterday, 1007 pilgrims had paid obeisance at the cave shrine. 
Over 2,000 Amarnath pilgrims, who were part of the third batch, were left stranded on the Jammu-Srinagar National Highway on Friday when heavy rains triggered landslides at several places, disrupting smooth flow of traffic on the hilly road, officials said.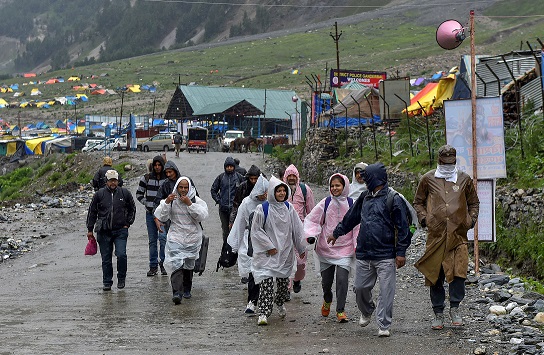 Braving heavy rains, the third batch of 2,876 pilgrims, including 544 women, left the Bhagwati Nagar base camp here for Kashmir earlier on Friday in a convoy under tight security cover to pay obeisance at the 3,880 metre high holy cave shrine of Amarnath, but faced frequent stoppage due to blocking of the 260-km highway by landslides, they said. 
Though timely action by the concerned authorities ensured removal of hurdles and reopening of the highway.
Earlier in the day, the yatra was suspended from Baltal route due to multiple slides en- route caused by heavy rainfall in the valley over the past two days. 
A police official said the Kali Mata track was damaged due to slides at multiple places, which forced suspension of the yatra from Baltal route. 
The restoration work is going on but a slight drizzle is hampering the efforts, the official said. 
Chief Engineer, Irrigation and Flood Control, M.M. Shahnawaz, in a statement, said: "At 6 p.m. today (Friday), Jhelum River had crossed the flood declaration level of 21 feet at Sangam in Anantnag district.
"People living in low-lying areas of south Kashmir, especially along the embankments of River Jhelum and other streams are advised to remain vigilant."
A BSF official, posted on yatra duty, died after complaining of chest pain last night at Betaab Valley in Pahalgam area. 
The annual yatra to the 3,880 metre high cave shrine in south Kashmir Himalayas began on June 28 and will conclude on August 26 to coincide with Raksha Bandhan. 
Watch full video: 
(With agency inputs)