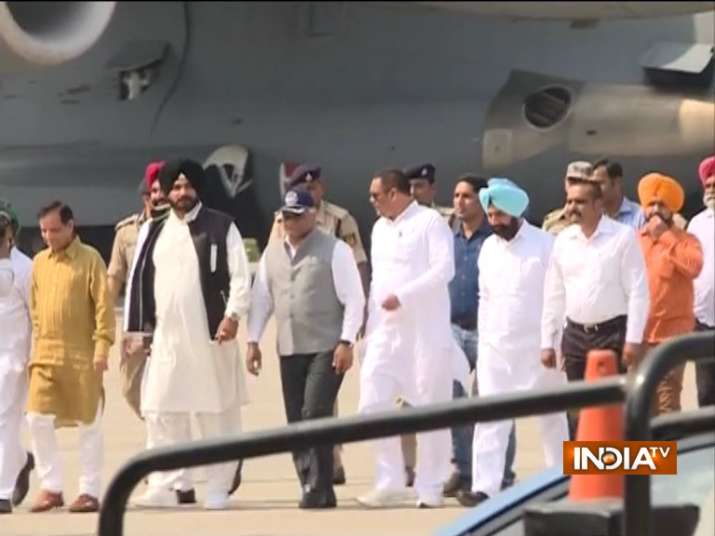 The mortal remains of 38 Indian men killed by the Islamic State terror group in Mosul, Iraq, in 2014 arrived here on Monday afternoon on a special IAF aircraft.
Union Minister of State for External Affairs V.K. Singh accompanied the mortal remains.
"We are thankful to the authorities in Iraq for the help (they rendered) to locate the victims and exhume the mortal remains. The government of India did its best to know about the missing Indians," Singh told the media.
Although 39 Indians were killed as the Islamic State took over Mosul in June 2014, the mortal remains of 38 were brought back as the identification of one body is still pending.
While the coffins of 31 victims -- 27 from Punjab and four from Himachal Pradesh -- were handed over to the respective authorities at the Amritsar airport here, seven coffins were shifted to another aircraft to be flown to West Bengal (3) and Bihar (4).
As it happened: 
03:30 pm: 
Ex-gratia compensation of Rs 5 lakh per family, job for one person per family will be given and current pension of Rs 20,000 to continue: Punjab Minister Navjot Singh Sidhu on compensation for 27 of 39 Indians killed in Iraq who were from Punjab pic.twitter.com/KIaHKBrzR5

— ANI (@ANI) April 2, 2018
02:56 pm: This is not a game of football, Both state and central govt are sensitive govts, EAM had asked the families for the details of their members who can be given jobs etc, we will review: Gen VK Singh on whether kin of the 38 Indians will be given jobs
02:44 pm: The mortal remains of the Indians will be handed over to the respective family members shortly: Gen V K Singh
02:43 pm: I would like to assure everyone that the govt of India also has made all possible efforts in this direction: Gen V K Singh
02:42 pm: The govt of Iraq helped speeding up the complete process, and so we have been able to reach back India on time: Gen V K Singh
02:30 pm: Special flight carrying mortal remains of 38 Indians killed in Iraq's Mosul, lands in Amritsar. MoS MEA VK Singh is onboard
09:45 am: MoS MEA Gen (Retd) V K Singh departs for Amritsar with the mortal remains of 38 Indians. 
08:30 am: The plane carrying remains of 38 Indians killed in Iraq will go to Amritsar first as 27 of the Indians killed were from Punjab. The authorities in Amritsar have made the required arrangements to receive the bodies and transport them to their villages.
08:00 am: In wake of 39 Indian workers' death in Iraq, a parliamentary panel has called a meeting tomorrow to deliberate upon "safety and security of Indian workers in conflict zones". The parliamentary standing committee on external affairs headed by Congress MP Shashi Tharoor will deliberate upon various issues related to Indian migrant workers.
07:30 am: The Union minister and former Army chief saluted the remains at the airport as workers loaded the caskets on the aircraft on Sunday.
07:00 am: The wailing families of the deceased are waiting. Even though the day will bring closure to 38 families, who were left wondering about the whereabouts of their loved ones for four years as the Indian government searched for them in war-torn Iraq,  it will be a difficult day as they prepare for the last rites. "We could never imagine that we would hear news of my brother's death, but at least now we know the truth otherwise we would have been left wondering forever," sister of one of the deceased told India TV. 
06:30 am: On March 20, External Affairs Minister (EAM) Sushma Swaraj informed the Rajya Sabha members in the Parliament that the 39 Indian nationals, who went missing in Mosul in 2014, were killed by the terror outfit Islamic State (IS). A total of 27 persons from Punjab and four from Bihar were among the 39 killed.