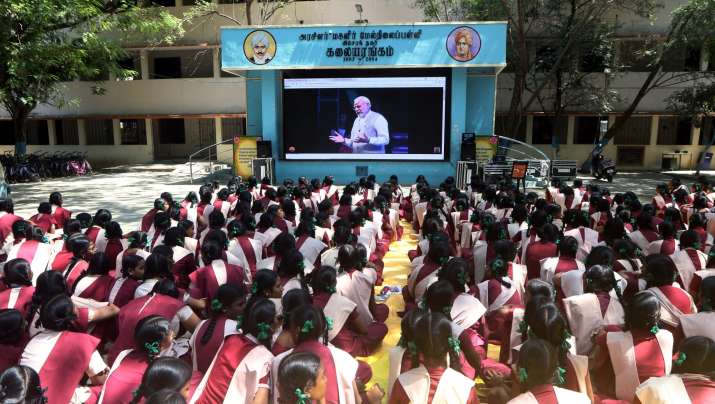 To students from across the country, Prime Minister Narendra Modi turned teacher on Friday, giving them lessons on how to tackle exams and on how to succeed.
In a programme titled 'Pariksha Pe Charcha' held inside Talkatora stadium here, Modi addressed the students in person and also about "10 crore students and teachers and parents" nationally through various media. 
The interaction comes days after the Prime Minister launched his book "Exam Warriors", a collection of anecdotes from his growing up years, and with tips for handling exam pressure.
"The greatest learning I got from my teachers was: 'never let the student inside you die'. I pay respects firstly to my teachers, who kept the student alive in me," Modi said beginning his address. 
When asked by Samiksha, a Class 11 student, why despite complete preparation students still feel underconfident, Modi said self-confidence has to come from within and there's no medicine for it. 
"Reality is, there is no medicine for self-confidence. Likewise, listening to long speeches won't help you either. We have to learn to test ourselves at every step of our lives," he said, adding that winning small battles through the course of our life brings the self-confidence. 
"In my childhood I used to read Swami Vivekananda a lot and always used to read his saying 'Aham Brahmasmi'. He used to say that he himself is 'Brahma' incarnate. By this he meant to awaken the self-confidence.
"He used say 'you worship 33 crore gods and goddesses, those 33 crore gods and goddesses will shower blessings upon you, but if you are not confident in yourself then even they will not be able to do anything for you'," he said. 
When asked by a student how to concentrate on studies and ward off distraction, the Prime Minister said concentration is no unique talent. 
"Many people believe that to concentrate one needs to have some special ability that one must learn. It is not like that. We all do certain activities with utmost concentration... Do you forget when someone curses you? No, which means there is nothing wrong with your faculty of memory," Modi said.
"Things, in which our intellect, heart, mind, and body become synchronised, become unforgettable." 
He advised students to study with heightened senses and remain "online" and not "offline" in whatever they do. 
To Aruna Shrivastava, a student who asked the Prime Minister how to ward off peer pressure, Prime Minister's advice was to not compete with others, but with oneself. He explained this with an analogy from the world of sports saying that playing in other team's ground constitutes "risk" while playing in one's homeground "becomes your strength". 
"Same goes for warfare... Now, why do you compete with others... your friend has different talent, different interests, different nurturing than you. You compete without knowing his entire ecosystem and then you try to fit into his system and in doing so you lose whatever you have, cannot have what he has, and in the end, you get depressed," he said. 
Referring to world record holder Ukrainian Pole Vaulter Sergey Bubka-- who broke his own world record 35 times before retiring in 2007-- Modi asked students to do "anuspardha" (competing with oneself). 
On pressure from parents on students, Modi said despite everything one should not mistrust the intentions of the parents. 
"Parents have this dream of seeing their wards becoming something. Therefore, we should not doubt their intentions. Once we do so, a door is opened for understanding" 
However, he pointed out many parents' tendency to "transplant" their dreams, which they could not fulfil in their lives, on their wards against their wishes. 
"Sometimes even desires have ghosts. These ghosts hold you tight," he said, advising parents against treating their sons and daughters as a symbol of 'social status' and requested them to appraise each according to his or her talent. 
He told students to "defocus" once in a while by engaging in one's favourite activity and coming in contact with the natural environment. 
"You cannot focus back without defocus". 
The Prime Minister also differentiated IQ and EQ for students, laying emphasis on the latter's role in shaping one's life, which according to him gives one a "sense of mission" .
"It is necessary that there is balance between IQ and EQ... Ability to take risk comes from a strong emotional quotient," he said. 
WATCH VIDEO: PM Modi interacts with students after release of his book "Exam Warriors"