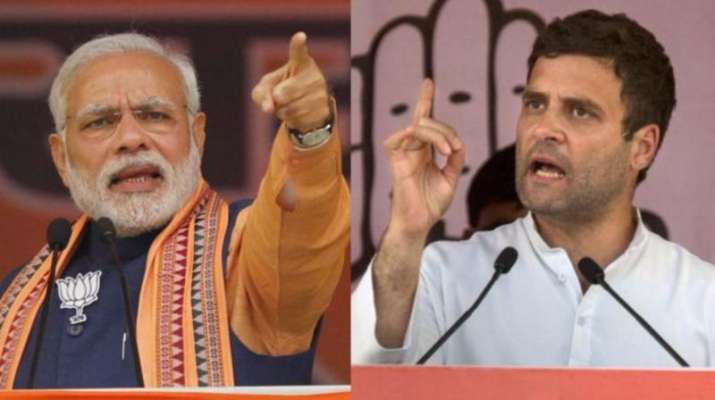 The counting procedure of the Lok Sabha polls 2019 is almost over, and going by the trends, the Bharatiya Janata Party-led National Democratic Alliance is all set to return to power. 
In all these years of general elections in the country, the Lok Sabha polls have witnessed wins with vote margins as low as 0.0014 per cent and as high as 97 per cent. 
In this Lok Sabha election too, several records are slated to be set and broken.
1) This has been a bitter-sweet election season for Congress chief Rahul Gandhi. He is trailing from his family bastion Amethi but is leading from Wayanad by a whopping 8 lakh votes. Rahul Gandhi, at the time of filing this report, had got 13,29,455 votes, while his rival P. P. Suneer 4,97,013 -- an unassailable lead of more than 8 lakh votes.
Rahul Gandhi has broken the record of Prime Minister Narendra Modi who won the Varanasi Lok Sabha seat in the 2014 election by 5,70,128 votes, which is one of the highest margins in history of Lok Sabha polls.
2) PM Modi is leading against his rival Shalini Yadav of Samajwadi Party by over 5 lakh votes from Varanasi. In last Lok Sabha election, PM Modi won by a margin of over 3 lakh votes.
3) Amit Shah is leading by a margin of over 5 lakh votes against his closest rival Dr CJ Chavda of Congress in Gandhinagar. In 2014 Lok Sabha election, this seat was won by senior BJP leader LK Advani by a margin of 4,83,121 votes.
4) Ravi Shankar Prasad, who is contesting the Lok Sabha election from Patna Sahib, is leading against his rival, and once co-party leader Shatrughan Sinha by a margin of around 2 lakh votes. Sinha joined Congress a few weeks before the election.
5) Former Jammu and Kashmir chief minister and National Conference patron Farooq Abdullah is leading by a margin of over 1 lakh votes from the Srinagar constituency in Jammu and Kashmir. 
The 2019 general election was held in seven phases from April 11 to May 19, 2019 to constitute the 17th Lok Sabha.