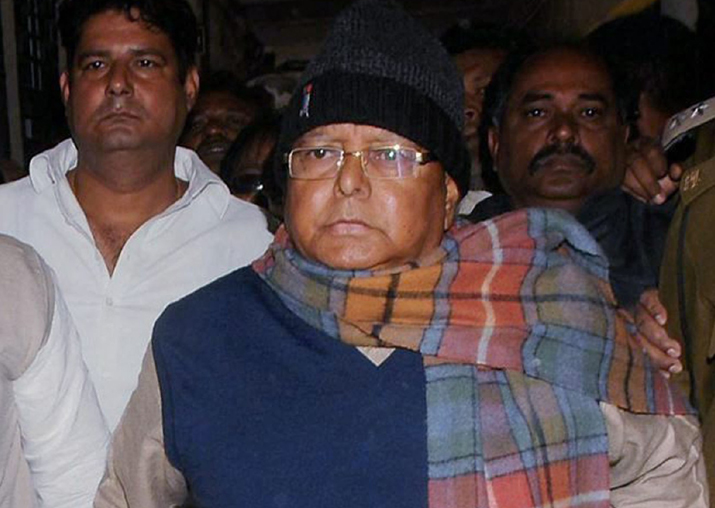 A special CBI court here today said that the quantum of punishment for jailed Rashtriya Janata Dal (RJD) leader Lalu Yadav in fodder scam will be pronounced tomorrow at 2 pm via video conferencing. 
News agency ANI quoted Chittaranjan Sinha, Lalu's lawyer, as saying that the sentencing will be announced at 2 pm on Saturday via video conferencing.
Ahead of today's hearing on the sentencing, the counsel filed a plea demanding minimum punishment for his client on health grounds. In his plea, the RJD supremo requested the judge to award punishment keeping his age in mind. 
"I have no role in this scam directly; consider minimum punishment keeping in view my age and health grounds," Lalu said in his plea.
During the quantum hearing, the RJD chief was asked to appear via video conferencing. Prasad appeared before the court from Birsa Munda central jail where he is lodged.
Lalu was convicted, along with 15 others, in the case on December 23. The court had acquitted six others, including another former Bihar chief minister Jagannath Mishra. This is the second fodder scam case in which the RJD supremo has been convicted. There are three more fodder scam cases pending against him.
The case pertains to the fraudulent withdrawal of Rs 89.27 lakh from Deoghar Treasury when he was Lalu was CM of Bihar between 1991 and 1994. 
The court had convicted Lalu for offences of cheating with criminal conspiracy under the Indian Penal Code and the Prevention of Corruption Act. Under the sections, Lalu can be sentenced a minimum jail term of one year and maximum of seven years.
Yadav faces another three fodder scam cases for illegal withdrawal of Rs 3.97 crore from the Dumka Treasury, Rs 36 crore from the Chaibasa Treasury and Rs 184 crore from the Doranda treasury.