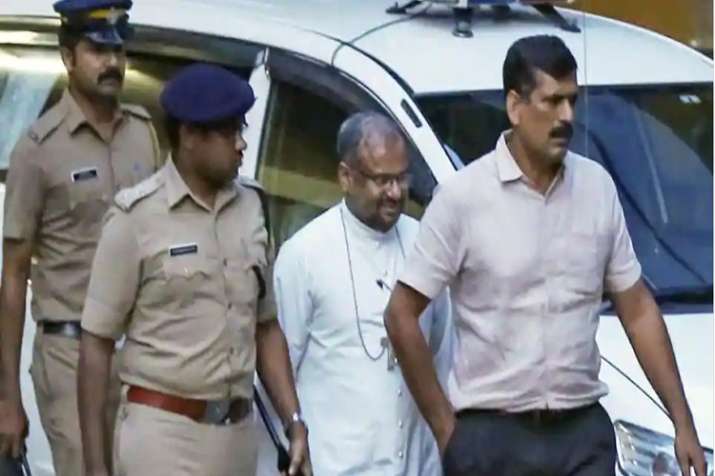 The Kerala High Court on Monday granted conditional bail to Bishop Franco Mulakkal, the chief accused in the nun rape case. 
The court laid down strict conditions that Bishop Mulakkal should not enter Kerala. He must also surrender his passport and should appear before the police once in every two weeks.
Mulakkal was arrested on September 21 after three days of questioning. On September 24, he was sent to two weeks judicial custody. Mulakkal has been lodged in the Pala sub-jail since.
Last week, a Kerala court extended the judicial custody of Mulakkal till October 20. His lawyers then approached the Kerala High Court. The HC had rejected his application for bail citing prima-facie evidence in the case and had also accepted the prosecution's stand that giving the accused bail would hamper the course of the investigation.
Earlier on October 3, the high court had denied the bishop bail as Justice V. Raja Vijayaraghavan observed that there was evidence against him.
In her complaint to the Kottayam Police in June, the nun had alleged that Bishop Mulakkal had raped her at a guest house in Kuravilangad in May 2014 and subsequently, sexually exploited her on several occasions over a period of two years from May 5, 2014. She said she had to approach the police as the church authorities did not act even after repeated complaints.
In the remand report submitted in the court, the police said the medical examination confirmed that the nun was sexually assaulted. It said the bishop had used his spiritual authority to exploit the nun. A day with the bishop programme was also misused by the bishop, the report said.
Mulakkal, who heads the Roman Catholic Diocese in Jalandhar in Punjab, is the first bishop in the country to be jailed for rape.