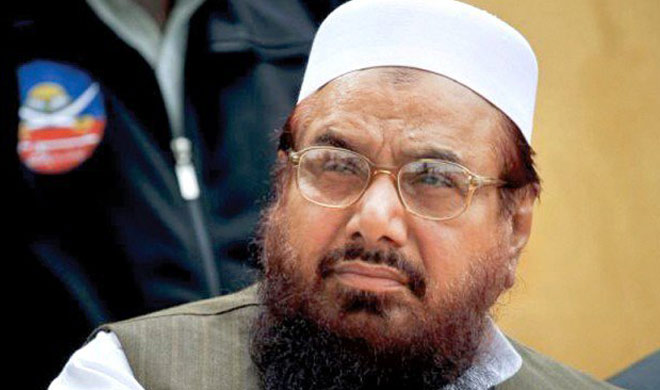 Pakistan often accuses India of violating human rights in Kashmir, but its real face of exporting terror has now once again been exposed.
This time, Jamaat-ud-Dawa (JuD) chief Hafiz Saeed, who is a terrorist for the world, has claimed that the violence in the Valley after Hizbul Mujahideen commander Burhan Wani's killing was fuelled by banned terror group Lashkar-e-Taiba (LeT).
Saeed has recently said that a LeT militant was leading the procession held in Kashmir after Wani's killing.
"Have you seen the pictures of procession when lakhs of Kashmiris came to the streets? Did you see a man who was being carried on shoulders by the crowd? Do you know the man who was leading the procession? He is an 'ameer' of Laskar-e-Taiba (LeT)," the Mumbai attack mastermind Hafiz.
"Several people from Faisalabad went to Kashmir, many of them even sacrificed their lives," Saeed, the founder of LeT who carries a bounty of USD 10 million (Rs 67 crore) said.
The latest remark by Saeed has exposed Pakistani government's blatant lies that it had no role in instigating deadly violence in the Valley after Wani's death. A total of 50 people including 48 civilians and two policemen have been killed in widespread violence in the Valley that started on July 9, a day after Wani was killed.
Saeed also expressed his anger over denial of visa to visit Kashmir for 'offering help' to those who suffered during the violent protests.
"Pakistan is incomplete without Kashmir and by God's grace, Kashmir will become a part of it someday," Hafiz, listed as a terrorist by the UN Security Council's 1267 Al Qaeda Sanctions Committee, said.
"One day the world would witness India splitting into pieces," Saeed added.
Attacking the Indian media, he said, "The media keeps showing my pictures on TV while screaming Bombay, they will gain nothing by doing so."
Saeed has been demanding Pakistani government to suspend trade with India and ban Bollywood movies in the country.
Saeed's LeT carried out the 2008 Mumbai terror attack and was banned in Pakistan in 2015 but Saeed, who leads its charity arm in Pakistan, travels freely and gives speeches inciting people to attack Western and Indian interests.