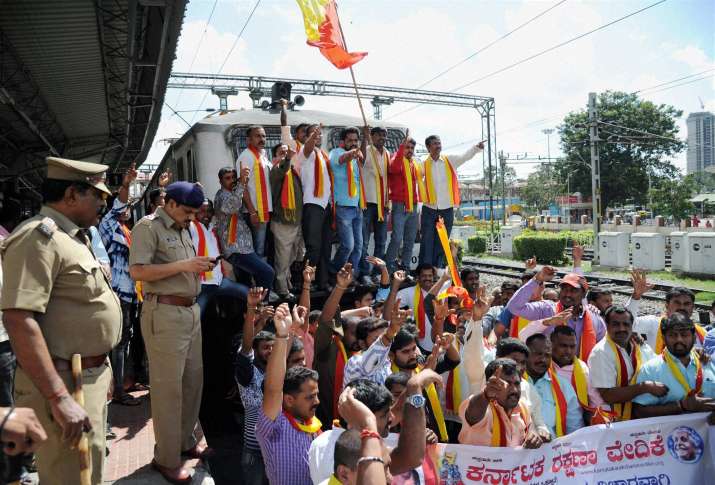 A Bandh called by over 500 organisations protesting Supreme Court directive to release water for Tamil Nadu, have thrown life out of gear in major Karnataka cities like Bengaluru, Mysuru. Schools and colleges are closed as are many offices in capital Bengaluru and other places.
The day-long protest is being spearheaded by as many as 500 pro-Kannada organisations, which represent sections including farmers, traders and businesses. Security has been stepped up and more forces have been deployed across the state.
Though chief minister Siddaramaiah said that the government will brook no violence by protesters, city police sources admitted the force is weary given the consecutive protests and festival duty deployment.
Government offices will remain open, but public transport, including metro services, will not ply. Banks, shops, markets, malls, hotels, bars, pubs, eateries, restaurant, theatres and petrol bunks will also remain closed during the day, officials said.
Essential supplies, including milk and medicines, though, have been exempted from the shutdown. Ambulances will be allowed to ferry patients to hospitals.
The protests over water had started in Karnataka's Mandya district on Monday after the Supreme Court ordered the state to release 15,000 cusecs of water for the next 10 days.
While the district remains the heart of the protest, a huge section of the population is voluntarily supporting the shutdown declared by the pro-Karnataka parties.
Bowing to the apex court's Monday order, the state began releasing 15,000 cusecs of water daily from early Wednesday from its reservoirs across the river basin for 10 days amid protests and demonstrations by farmers, traders and the youth in the Mysuru region.