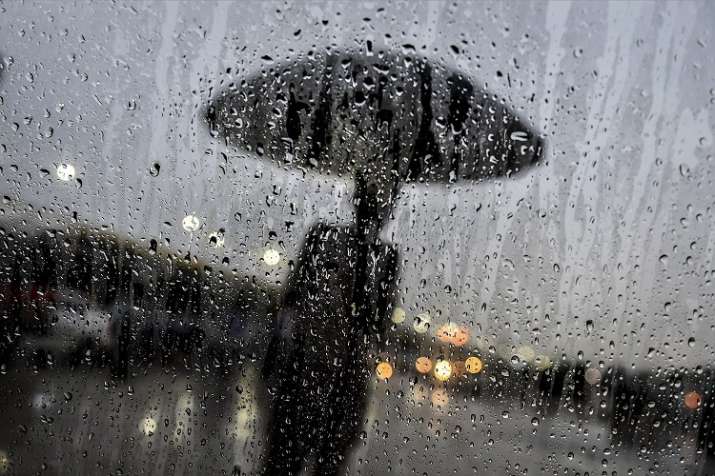 Heavy rains continued to lash various parts of India on Saturday causing heavy waterlogging and traffic congestion in many areas. While the condition of flood-hit areas in Kerala continues to remain severe,  two deaths have been reported from Odisha due to wall collapse triggered by heavy rains. Here's how rains affected the various states all across India.
I. Rain lashes parts of Delhi-NCR, road traffic affected 
Heavy rain lashed parts of the national capital region on Saturday, bringing down maximum temperature.
 
The Meteorological department has forecast overcast skies and light to moderate rain on Sunday.
In the last 24 hours, the city received 24.2 mm rain till 8.30 am. Further, 5 mm rain was recorded till 5.30 pm, the Met department said. 
Ridge, Jafarpur, Najafgarh, Narela, Ayanagar received heavy rain, it said. 
Rain lashed several parts in north Delhi, including GTB Nagar, Burari, Model Town, Mukherjee Nagar, Azadpur, Timarpur, Civil Lines. However, Lutyens' Delhi remained dry although the weather became pleasant due to overcast skies and cool breeze. 
The rain brought down maximum temperature to 34.4 degrees Celsius. Minimum temperature was recorded at 28 degrees Celsius. 
However, commuters had a hard time as traffic crawled due to waterlogging in different parts of the city. 
Relative humidity oscillated from 100 per cent to 71 per cent, the official said. 
The maximum and minimum temperature will hover around 33 degrees and 25 degree Celsius, the Met office said.
II. Two killed in wall collapse triggered by rains in Odisha, CM Naveen Patnaik reviews rain situation
Heavy rains continued to lash parts of Odisha for the second day on Saturday, prompting Chief Minister Naveen Patnaik to order relief measures in the affected areas of the state. 
At least two people were killed in Raygada district of the state this morning when a wall collapsed on them due to the rainfall, official sources said. 
The incident comes a day after seven people were killed due to lightning strikes in Mayurbhanj and Balasore. 
The low pressure-induced rain has led to a flood-like situation in Malkangiri and Kalahandi districts, sources in the special relief commissioner's (SRC) office said, adding that people in Bhubaneswar, Cuttack and the holy town of Puri were grappling with waterlogging problems since Friday. 
Patnaik, who took stock of the situation during the day, asked the district collectors to move people from the flooded areas, if required, as the state "maintains a policy of zero casualty".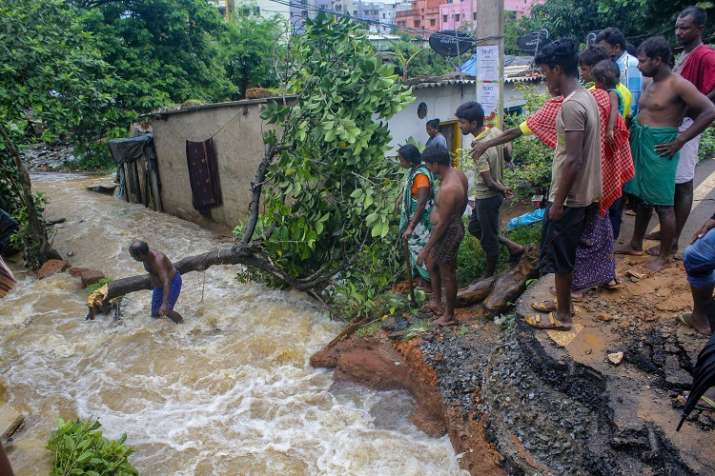 He also directed authorities of the Urban Development Department to ensure that the waterlogging problem was resolved at the earliest with the use of pumps. 
Schools in Bhubaneswar, Cuttack and Puri remained closed today due to rainfall. 
Sources in East Coast Railway Zone (ECoR) said at least three trains were cancelled and several trains had to be rerouted as water submerged railway tracks in several regions. 
Train services were also affected due to landslides between Rayagada-Koraput and Rauli-Leliguma areas.
"The Hirakhand Express and Koraput-Vishakhapatnam DMU had to be short-terminated at Bhalumuska and Tikiri railway stations in Rayagada district," an ECoR official said. 
All regions, barring Sundergarh, Sambalpur and Jharsuguda districts in west Odisha, have been experiencing heavy showers since yesterday, Special Relief Commissioner B P Sethi said. 
According to Sethi, six districts -- Gajapati, Kalahandi, Khurda, Kopraput, Malkangiri and Puri -- have received an average rainfall of over 100 mm. 
In the state capital, Odisha Disaster Rapid Action Force (ODRAF) personnel and fire-service teams have been deployed to deal with waterlogging issues at Jaydev Vihar, Nayapalli, Acharya Vihar and Jaydurganagar areas, he said. 
In Cuttack, at least 181 pumps have been engaged to flush out rain water. Additionally, a sluice gate has been opened to release water of Kathajodi River, officials said. 
A team of ODRAF personnel has been deployed in the city to assist the marooned people and deliver food to them, they added. 
The return of Lord Jagannath's chariot on Sunday could get affected due to severe waterlogging in Puri district, an official said. 
The chariot wheels of Lords Jagannath, Shubhadra and Balaram were lying half-submerged in the rainwater, he said, adding that the district received a rainfall of 322 mm in the past 24 hours. 
In Malkangiri, traffic movement on NH-326 was disrupted near the Saptadhara bridge in Khairput block and the Pangam bridge in Mathili Block among other areas, District Collector Manish Kumar Agarwal said. 
Two ODRAF teams in Mathili Block of Malkangiri have rescued 15 people and shifted them to a nearby school building, he added. 
Heavy rain also pounded Kalahandi district last night, forcing the authorities to open five gates of Mangalpur barrage. 
A portion of NH-59, along Madanpur- Tumudibundh area, has been washed away in the rain, official sources said, adding that families in Kalampur block of the district have been shifted to safer places. 
According to the MeT Department, the state could experience more rainfall, accompanied by thunderstorms, over the next 24 hours as the well-marked low pressure area over northwest Bay of Bengal has concentrated into a depression. 
"It (low-pressure area) is very likely to move west-northwestwards and cross north Odisha and West Bengal coast between Chandbali and Digha, close to Balasore, around evening today," it said.
III. Central team visits Kerala's rain-struck areas, announces compensation
A team led by Union Minister of State for Home Kiren Rijiju toured various flood-hit districts of Kerala on Saturday and announced compensation of Rs 4 lakh for each of the deceased from the heavy rains that had hit the state over the past two weeks.
Just after his arrival at Kochi, the Minister told the media that the compensation package would be based on prescribed guidelines.
"When a calamity occurs, the Centre and state jointly works and both pool in their resources. We already have cleared Rs 80 crore on Friday," he said, before he and his team took a helicopter to and head straight to Alappuzha, the worst-affected district.
They then moved to neighbouring Kottayam district visiting both the rain-hit areas besides visiting several relief camps.
Rijiju, who was accompanied by Union Minister K.J. Alphons, who hails from the state, besides state Agriculture Minister V.S. Sunilkumar, PWD Minister G. Sudhakaran, Kerala Chief Secretary Tom Jose and the local legislators besides top officials, announced the ex-gratia payment at Kottayam.
"We visited the affected areas besides several relief camps. While we are happy with the relief camps and the facilities, the damages caused is too much. During a calamity, it's a practise where both the state and the Centre works together. We are capable of handling the situation. For the deceased, Rs 4 lakh would be given," he told the media.
At a relief camp in Kottayam, Rijiju returned to speak to the inmates when some of them angrily noted the Minister did not interact with them.
The Minister also announced that long-term measures would also be undertaken to deal with the situation and would be worked out by a team of experts drawn from various departments.
"It was on the direction of Prime Minister that I have come and in 10 days time, we will submit a detailed report on this visit and follow up action would be based on it," he added.
After going around Kottayam, he returned to Kochi, from where he left for Delhi. 
Huge damage was caused on account of heavy rains that lashed most parts of the state over two weeks. Some of the worst-hits include Idukki, Ernakulam, besides parts of Kozhikode, Thrissur, Wayanad, Palakkad and Kannur.
The death toll in these rains touched 20 and according to Sunilkumar, the total damage has crossed Rs 900 crore.
"About 22,000 hectares of agricultural produce has been destroyed. The biggest lacunae is the rate of the compensation that is prescribed as these are all old norms and insufficient," Sunilkumar said on Saturday.
He said the damage to the crops is around Rs 220 crore. "We will again brief the Centre the urgency to increase the old compensation rates."
Explaining the lacuna in compensation, the Agriculture Minister said Rs 95,000 was being provided for a house completely destroyed. "We have sought an increase as it requires Rs 4 lakh," he said.
Meanwhile, amid flood fury in Kerala's worst-affected districts of Kottayam and Alappuzha, political sqaubbles have broken out with the Congress-led opposition slamming the Pinarayi Vijayan government for failing to respond to the grim situation.
Normal life was, however, reported to be limping back to normalcy in eight of the 14 districts where heavy rains have caused severe disruption, official reports said. 
At least 20 people have died in the rain-related incidents over the past two weeks. The damage to property is estimated to be close to Rs 1,000 crore, officials said.
Leader of the Opposition Ramesh Chennithala, who visited the flood-ravaged Kuttanad areas of Kottayam and Alappuzha districts, blamed the state government for not responding to the situation. 
"It is unfortunate that though Alappuzha district has three state ministers, it was only today that one of them turned up along with a Central team to assess the situation," he said.
"This is a calamity, but not a single Minister has turned up to be with the people. The relief camps lack basic facilities. The Chief Minister has not held a special cabinet meeting to handle the emergency situation," said Chennnithala while speaking to the media near Alappuzha.
Alappuzha district is home to state PWD Minister G. Sudhakaran, State Food Minister P. Thilothaman and Finance Minister Thomas Issac, who is undergoing ayurveda treatment.
Sudhakaran, who arrived with the Central team, dismissed the allegations, saying the government has done everything it can. 
"The need is to extend all help in terms of medicines, water and food. A Minister's visit would not matter," said Sudhakaran at Alappuzha.
Kuttanadu legislator Thomas Chandy said he had to shift his family to escape the rising water.
"I have provided three of my boats to bring relief and help the affected people," said Chandy.
At Kottayam, the worst-affected are the low lying areas such as Aymanam and Kumarakom. In many homes, while one family member has stayed back in the waterlogged homes to protect their belongings, the others are living in the relief camps.
More than 10,000 people are in relief camps in these two districts. Most educational institutions have been closed for the week. 
IV. Telangana CM tells authorities to be alert during rainfall 
Chief Minister of Telangana K Chandrasekhar Rao on Saturday told the government officials to be alert in view of the rain forecast for the coming two days. 
He instructed the Chief Secretary SK Joshi to direct the Collectors of various districts to undertake relief measures if there was rainfall, said an official press statement. 
The meteorological department had predicted heavy to very heavy rain in the districts of Adilabad, Nirmal, Nizamabad, Kumram Bheem, Mancherial, Jagityal, Rajanna Sircilla, Peddapalli, Karimnagar, Jayashankar Bhupalapalli, Warangal, Kothagudem, and Khammam. 
WATCH VIDEO: