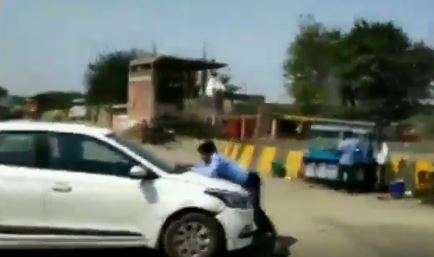 In a video that is going viral, a man driving a white hatchback is seen dragging another man clinging to his car bonnet for almost two kilometres in busy Ghaziabad traffic on Wednesday. The video clearly shows how the driver kept increasing the speed of his car despite onlookers waving at him.
In the video, the driver can be seen following a zig-zag manoeuvre which looks like an attempt to bring down the man. But fortunately, the man on the receiving end manages to hold on to the bonnet thereby saving himself in what could have been a fatal injury.
Watch the video: 
#WATCH In a shocking case of road rage seen in Ghaziabad, driver of a car drove for almost 2 kilometers with a man clinging on to the car bonnet. The driver was later arrested by Police (6.3.19) (Note:Strong language) pic.twitter.com/hocrDi7qgg

— ANI UP (@ANINewsUP) March 7, 2019
When the car finally stopped, the daily commuters encircled the vehicle. However, the driver refused to come out of the white hatchback.  The driver was later arrested by Police. By the time of writing this report, the cause of road rage was not known. The incident was reported on Wednesday.
Meanwhile, Ghaziabad MP General VK Singh on Wednesday said those questioning the Balakot airstrike and asking for casualty figures should be "tied at the bottom of the aircraft and taken along."