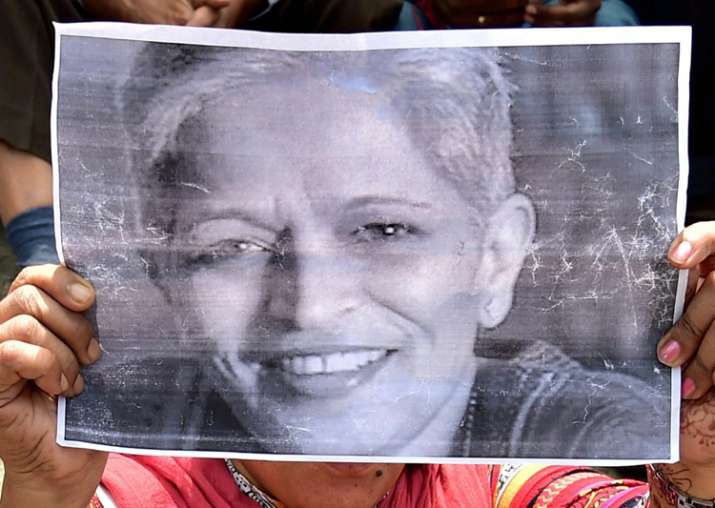 Senior journalist Gauri Lankesh, 55, a vocal critic of Hindutva politics, was shot dead by unidentified assailants at her Rajarajeshwari Nagar residence in Bengaluru on Tuesday night.
The scribe, who had last year lost a defamation case against a BJP MP, had returned home in her car and was opening the door to her residence when motorcycle-borne assailants fired at her indiscriminately with two bullets hitting her in the chest and one on her forehead. She died instantaneously, police said. 
Gauri edited Kannada tabloid 'Gauri Lankesh Patrike' besides owning some other publications, and was known for her forthright views against hard-line Hindutva politics.
Karnataka Chief Minister Siddaramaiah today formed a Special Investigation Team, headed by an Inspector-General-level officer, to probe the killing of the journalist-activist and termed the murder an 'assassination on democracy'. 
Police said that they have spotted one of three killers on CCTVs that were installed at the deceased journalist's house in the western part of the city. The suspect is seen wearing a helmet. Three teams have been formed to identify and track the killers.
Meanwhile, scores of journalists in different cities today protested against her murder and demanded that culprits should be brought to books at the earliest. 
Here are 10 quick points about the journalist known for her anti-establishment stand:
1. Born in 1962, Gauri was the daughter of legendary Kannada journalist and founding editor of Kannada weekly tabloid 'Lankesh Patrike'. Her siblings--Kavitha and Indrajit Lankesh-- are film and theatre personalities. 
2. Known for pro-poor and pro-Dalit stand, Gauri was among very few woman editors in Kannada journalism who openly expressed her pro-Naxal and Leftist views. 
3. Gauri's career as a journalist began with The Times of India in Bangalore following which she moved to Delhi with her husband. She returned to Bengaluru soon after and began working as a correspondent for the Sunday magazine where she continued for 9 years. 
4. At the time of her father's death in 2000, she was working for the Eenadu's Telugu television channel in Delhi.
5. She took on the reins of her father's tabloid following his death. The tabloid did not take any advertisements and is run by a group of 50 people.
6. Gauri started her own Kannada tabloid 'Gauri Lankesh Patrike' in 2005 after quitting as editor of Lankesh Patrike following differences with her brother and paper's proprietor and publisher Indrajit. 
7. A fierce activist, she was convicted by a magisterial court in Hubballi last year in connection with a defamation case filed by BJP MP Prahlad Joshi and party office bearer Umesh Doshi who had objected to publication of a report against them in her periodical on January 23, 2008. The court had imposed a fine of Rs 10,000 on her along with a six-month jail term.
8. In 2012, while participating in a protest demanding ban on communal groups in Mangalore, she stated that Hinduism was not a religion, but a "system of hierarchy in society", in which "women are treated as second class creatures". 
9. She endorsed minority religion tag for the Lingayat community and headed the Komu Souharda Vedike, a communal harmony platform for the oppressed communities.
10. Gauri had in the past worked for the rehabilitation of Naxals who wanted to return to the social mainstream and was one among those involved in the founding of Citizens Initiative for Peace (CiP) in the state.