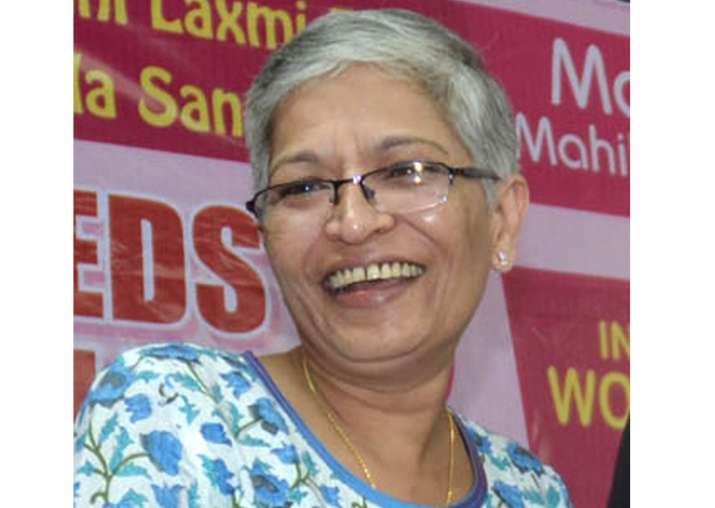 Senior Kannada journalist-activist Gauri Lankesh
, known for her left-leaning outlook and forthright views against Hindutva politics, was shot dead by unidentified assailants at her Bengaluru residence on Tuesday night. The 55-year-old had returned home in her car and was opening the gate when she was killed.
Gauri edited Kannada tabloid 'Gauri Lankesh Patrike' besides owning some other publications, and was known for her forthright views against hard-line Hindutva politics. 
She was among very few woman editors in Kannada journalism who openly expressed her pro-Naxal and Leftist views. Born in 1962, Gauri was the daughter of legendary Kannada journalist and founding editor of Kannada weekly tabloid 'Lankesh Patrike'. Her siblings -- Kavitha and Indrajit Lankesh -- are film and theatre personalities.
Here's a quick guide to the developments in the case: 
1. At least three motorcycle-borne assailants fired seven rounds with two bullets hitting Gauri in the chest and one on her forehead. She died instantaneously. 
2. Four bullets hit the compound wall of her building in Rajarajeshwari Nagar. The incident took place around 8 pm when Gauri returned to her residence from office and was heading towards the door of her residence after parking her car.
3. Police suspects that she was under surveillance of the assailants who must have trailed her closely.
4. Senior police officials, including Deputy Commissioner of Police (West) M N Anucheth, rushed to the spot after learning about the incident. 
5. Police said that they accessed a CCTV footage in which they have spotted one of the three killers. The assassin is seen wearing a helmet. 
6. Police have formed three teams to identify and track the killers.
7. Scores of journalist in different cities are protesting today against the murder of Gauri. 
8. The Karnataka government has formed a Special Investigation Team (SIT) to probe the killing of the scribe. The SIT will be headed by an Inspector General level officer. 
9. Karnataka CM Siddaramaiah has said that he is open to a CBI probe in this case. He added that if the family members are particular about it, the government will hand over the probe to the CBI
10. Home Minister Rajnath Singh has directed Home Secretary Rajiv Gauba to get a report from the state government about the murder.