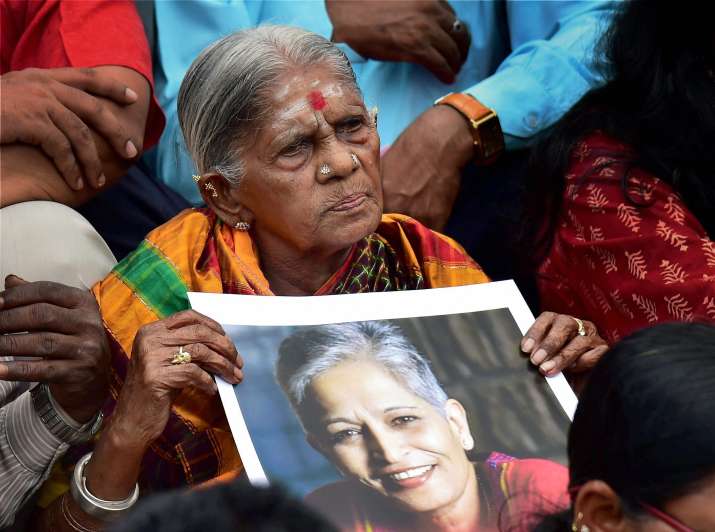 The cold-blooded murder of senior journalist-activist Gauri Lankesh has stirred a huge row across the country with activists and leaders cutting across party lines condemning the incident. Lankesh, 55, was shot dead by unidentified motorcycle-borne assailants outside her Bengaluru residence at around 8 pm Tuesday. Police said Lankesh had returned to her residence from office and was heading towards the door to her residence after parking her car when the assailants fired at her.
The attackers fired at least seven rounds, of which three hit her in the head and chest while four struck the front wall of the house, police said. Lankesh, 55, editor of Kannada tabloid 'Gauri Lankesh Patrike', died instantly, police said.
Karnataka Chief Minister Siddaramaiah today announced the setting up of a Special Investigation Team led by an IG-rank officer to probe Lankesh's murder. Speaking to reporters today, Siddaramaiah sought to draw parallels between the gunning down of Gauri and rationalists Narendra Dabholkar and SS Kalburgi, allegedly by fringe Hindu groups. "Similar weapons were used in Kalburgi, Govind Pansare and Dabholkar killings, in this case we don't know yet so can't draw link," he said.
Dabholkar was shot dead in August 2013, while Kalburgi was gunned down in August 2015.
The CM further said that two people had posted something against Lankesh on Facebook and were being questioned. "I cannot say yet if it was a part of a conspiracy," Siddaramaiah said. On a question on handing over the case to CBI, Siddaramaiah said that he has left it to the DGP who will consult the Home Minister and decide on it.
PM Modi a 'skilled Hindutva politician', says Rahul Gandhi
Congress vice president Rahul Gandhi today attacked Prime Minister Narendra Modi over the killing of Gauri Lankesh, terming him a "skilled Hindutva politician".
"PM is a skilled Hindutva politician. His words carry two different meanings, one for his base and the other for the rest of the world," Rahul told reporters today, adding that anybody who speaks against the ideology of BJP-RSS is pressured, beaten, attacked and even killed.
"No one can suppress the truth. The RSS and BJP ideology is trying to suppress the truth but this cannot happen in India," he told reporters here.
Rahul's comments drew sharp reactions from Union minister Nitin Gadkari who termed Rahul's remarks against the PM as shameful. "It is shameful because PM is of the country, he does not belong to any party," Gadkari told news agency ANI. The minister also dismissed the allegations that the BJP had a role to play in the killing.
"Baseless allegation…. we have nothing to with Gauri Lankesh murder. Onus to maintain law and order is on state government, that is Congress," he added.
Earlier today, Congress president Sonia Gandhi also condemned the killing of Lankesh and said it was a chilling reminder that "intolerance and bigotry is raising its ugly head in our society". Sonia Gandhi described Lankesh as one with fearless and independent views, who had extraordinary grit and determination to take on the system.
"The series of killings of rationalists, free thinkers and journalists in the country has created an atmosphere that dissent, ideological differences and divergence of views can endanger our lives. This cannot be and should not be tolerated," Sonia Gandhi said in a statement.
"It is an extremely sad moment for our democracy and a chilling reminder of the fact that intolerance and bigotry is raising its ugly head in our society," she said. In condemning this debilitating attack, the Congress party stands as one with the rationalists, thinkers, journalists and the media fraternity, she said.
Centre condemns killing, seeks speedy probe
The BJP-ruled central government also condemned the killing of Lankesh and called for a speedy probe into the incident. Union Information and Broadcasting minister Smriti Irani took to Twitter and said: "Condemn killing of senior journalist Gauri Lankesh. Hope speedy investigation is conducted and justice delivered. Condolences to the family."
On Tuesday, former MoS for I&B at the Centre, Rajyavardhan Singh Rathore expressed sadness at Lankesh's murder. "Terrible news from Bengaluru about the heinous murder of Gauri Lankesh. I condemn all acts of violence against journalists," he said. Rathore currently is in charge of the sports and youth affairs ministry in the Narendra Modi-led government.
The BJP today asked the Karnataka government to swiftly probe the murder of journalist Gauri Lankesh and arrest the guilty. Union minister Ananth Kumar targeted Chief Minister Siddaramaiah for what he said was the poor law and order situation in the Congress-led state.
He said there had been 18-19 political murders, including that of rationalist M M Kalburgi, in the state in the last two and a half years.
"Senior journalist of Karnataka Gauri Lankesh has been murdered mercilessly. We strongly condemn this heinous murder. We request the state government and Chief Minister Siddaramaiah to do a swift probe, arrest the guilty quickly and punish them severely," Kumar, a Lok Sabha member from Bengaluru, told reporters.
He said the Siddaramaiah government had not succeeded in taking the murder investigations to their logical conclusions.
Meanwhile, the Union Home Ministry has sought a report from the Karnataka government on the senior journalist's killing.
'Gauri's killing shocking'
"I am deeply shocked. I don't know how to react. I have no clue who has done this. The assailants must be brought to book. The case should be handed over to CBI," said Indrajit Lankesh, her filmmaker brother, who was among the first persons to arrive at the spot. Lankesh is survived by her brother Indrajit, filmmaker sister Kavitha Lankesh, and her mother Indira.
Cops from nearby stations, including Kengeri, RR Nagar, Byatarayanapura, Chandra Layout and Kamakshipalya, were rushed to the spot. Within an hour, hundreds of people had gathered at the spot and raised slogans against communal elements even as her body was taken away to Victoria Hospital for autopsy.
Bengaluru police commissioner T Sunil Kumar, along with senior police officers, rushed to the spot and officials said it was not immediately known who carried out the attack and the motive behind it. Police suspected that she was under surveillance of the assailants who must have trailed her closely.
The killing of Lankesh, who was a fearless critic of right-wing politics, has drawn parallels to the murders of writer MM Kalburgi in Dharwad in 2015, Left leader Govind Pansare the same year in Kolhapur and rationalist Narendra Dabholkar in Pune in 2013.
"Gauri's killing has parallels with Kalburgi's killing. We have formed three teams to hunt the killers. She had called me last Thursday and said she wanted to meet me. She was to meet me on Monday but she never turned up. She had received no threat calls," home minister Ramalinga Reddy told reporters.
"Who is behind the incident, is it the Naxals or any other ideological fringe parties were behind the incident will be known only after investigation. It is very premature to hold anybody responsible for the incident," Reddy said.
Chief Minister Siddaramaiah termed her death shocking. The chief minister said three police teams have been constituted to probe the killing. Instructions have been issued to crack the case and bring the culprits to book at the earliest, he said.
He said recently Gauri had been instrumental in bringing Naxalites into the mainstream and they had surrendered.
"It's shocking news for me. No one who has faith in humanity will ever kill anyone. Gauri Lankesh was secular and helped government bring the Naxals back to the mainstream," said Siddaramaiah, adding that he has asked police to get in touch with their Maharashtra counterparts probing the murder of Dabholkar.
Police have cordoned off the area around her house. Senior police officials, including Deputy Commissioner of Police (West) M N Anucheth, rushed to the spot to supervise investigation.
Karnataka police chief R K Dutta said Gauri had not voiced apprehension about any threat to her life during a couple of meetings he had with her.
Asked about who could be the possible suspects in the killing, the officer refused to hazard any guess, saying "let the investigation proceed first."
Life of Gauri Lankesh
Having begun her career with the Times Of India, Lankesh carried on to work with various publications, including Sunday magazine, and later for a Telugu TV channel in New Delhi. She returned to Bengaluru and started her own tabloid Gauri Lankesh Patrike in 2005. Her forthright views against Hindutva politics, caste system, among others, put her in the limelight and in conflict and controversy.
Aligned with the Komu Soharda Vedike, Lankesh was in the forefront of efforts to bring Naxals into the mainstream and at loggerheads with Hindutva forces, including RSS.
In her last posts on Twitter, she had flagged the menace of fake news and propaganda and warned followers against it. She also mentioned that it appeared to her that "some of `us' are fighting between ourselves."
Protests across the country
The murder of Lankesh, a fearless and vocal critic of right-wing Hindutva politics, sparked furore across the country with charges flowing from both sides of the ideological spectrum. Various organisations have planned demonstrations across the country on Wednesday to protest against the murder of senior journalist and activist Gauri Lankesh on Tuesday evening. 
Protests were witnessed in Rajarajeshwari Nagar where she was shot dead. Similar protests were seen in Bengaluru's Town Hall, Mandya, Dharwad etc.
Protestors demanded justice for Lankesh as well as M M Kalburgi who was shot dead in a similar fashion. Journalists across the country have called for a protest condemning the murder on Wednesday. Journalists in various cities will come together to show solidarity with Lankesh's family and demand speedy investigation.
In Delhi, the Press Club of India, Indian Women's Press Corps and the Press Association will hold a joint meeting to protest against Lankesh's murder. 
Protests have also been planned in other states of the country throughout the day. The cities where these protests are taking place include Ahmedabad, Chandigarh, Chennai, Gorakhpur, Hyderabad, Lucknow, Mumbai, Pune and Thiruvanathapuram.
(With PTI inputs)