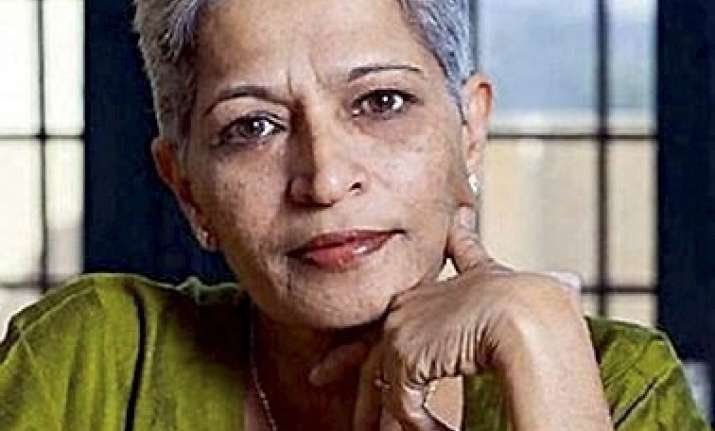 Senior journalist and activist Gauri Lankesh was shot dead by unidentified assailants in Bengaluru on Tuesday night at her residence. Police said Gauri, aged 55, had returned home in her car and was opening the gate when motorcycle-borne assailants fired at her indiscriminately with two bullets hitting her in the chest and one on her forehead. She died instantaneously.
Four bullets hit the compound wall of her building in Rajarajeshwari Nagar, the officials said.
Known for her left-leaning outlook and upfront views against Hindutva politics, she edited Kannada tabloid 'Gauri Lankesh Patrike' besides owning some other publications. A noted journalist-activist, Gauri was known for her anti-establishment, pro-poor and pro-Dalit stand.
Among very few woman editors in Kannada journalism, she was a fierce activist, who openly expressed her pro-Naxal and Leftist views. Born in 1962, Gauri was the daughter of legendary Kannada journalist and founding editor of Kannada weekly tabloid 'Lankesh Patrike'. Her siblings -- Kavitha and Indrajit Lankesh -- are film and theatre personalities.
Gauri's career as a journalist began with The Times of India in Bangalore following which she moved to Delhi with her husband. She returned to Bengaluru soon after and began working as a correspondent for the Sunday magazine where she continued for nine years. At the time of her father's death in 2000, she was working for the Eenadu's Telugu television channel in Delhi.
She took on the reins of her father's tabloid following his death. The tabloid did not take any advertisements and is run by a group of 50 people.
Gauri has been a vocal and forthright critic of Hindutva politics. In 2012, while participating in a protest demanding ban on communal groups in Mangalore, she stated that Hinduism was not a religion, but a "system of hierarchy in society", in which "women are treated as second class creatures". She endorsed minority religion tag for the Lingayat community and headed the Komu Souharda Vedike, a communal harmony platform for the oppressed communities.
She was also a vocal proponent of the freedom of press. In an interview to The Wire, Gauri said that 'she was concerned about the state of freedom of expression in the country'. She had also raised apprehensions about how people are targeted because of their ideology.
Her recent social media posts show that she was also concerned about the menace of fake news and said people needed to be made aware of it.  She had also flagged the issue of propaganda on social media and urged like-minded people to stay united against their "biggest enemy".
Gauri was opposed to the Bharatiya Janata Party and was convicted in a defamation case filed by MP Prahlad Joshi and BJP leader Umesh Dushi in November 2016. The BJP leaders had objected to a report against the party leaders in one of her publications. A Karnataka court had imposed a fine of Rs 10,000 on her along with a six-month jail term. She had also written about the alleged wrongdoings of Congress leader D. K. Shivakumar, a close associate of former Chief Minister S. M. Krishna.
"One of my reporters went to Shivakumar's constituency of Sathnur, and found that people with documents and papers literally coming out of the woodwork, wanting to expose the man. We had the guts to publish this story, while mainstream papers shied away from it," she told Rediff in an interview in 2000.
Besides her political views, Gauri was also openly critical of the caste system and had been at the receiving end on more than one occasion. In 2015, she was accused of needlessly criticising novelist S. L. Bhyrappa and Brahminism during the 81st Kannada Sahitya Sammelana (Kannada literary conference) held at Shravanabelagola. She later clarified that she was supportive of the writer, but questioned why the Hindu groups that were offended by Perumal Murugan were not offended by Bhyrappa.
The killing of Gauri has drawn parallels with similar killings in Karnataka and neighbouring states. Home Minister Ramalinga Reddy drew parallels between the gunning down of Gauri and rationalists Narendra Dabholkar and Kalburgi, allegedly by fringe Hindu groups. Dabholkar was shot dead in August 2013, while Kalburgi was gunned down in August 2015.
"Who is behind the incident, is it the Naxals or any other ideological fringe parties were behind the incident will be known only after investigation. It is very premature to hold anybody responsible for the incident," Reddy said.
Aligned with the Komu Soharda Vedike, Gauri was in the forefront of efforts to bring Naxals into the mainstream and at loggerheads with Hindutva forces, including RSS.
Bengaluru police officials said it was not immediately known who carried out the attack and the motive behind it. Police suspected that she was under surveillance of the assailants who must have trailed her closely.
Chief Minister Siddaramaiah termed her death shocking. The chief minister said three police teams have been constituted to probe the killing. Instructions have been issued to crack the case and bring the culprits to book at the earliest, he said.
He said recently Gauri had been instrumental in bringing Naxalites into the mainstream and they had surrendered. "It's shocking news for me. No one who has faith in humanity will ever kill anyone. Gauri Lankesh was secular and helped government bring the Naxals back to the mainstream," said Siddaramaiah. The CM also said he has asked police to get in touch with their Maharashtra counterparts probing the murder of Dabholkar.
"I do not know how to react. The assailants should be brought to the book. The case should be handed over to CBI," Gauri's brother Indrajit Lankesh said.
In a statement, RSS state unit expressed deep sorrow over the "heinous" murder of Gauri. "RSS appeals to the state government to act soon on the criminals responsible and bring them to the book," it said. Veteran BJP Leader K S Eshwarappa rapped the Siddaramaiah government for "failing" to protect the lives of people, including those of noted writers like Kalburgi and Gauri.