Follow us on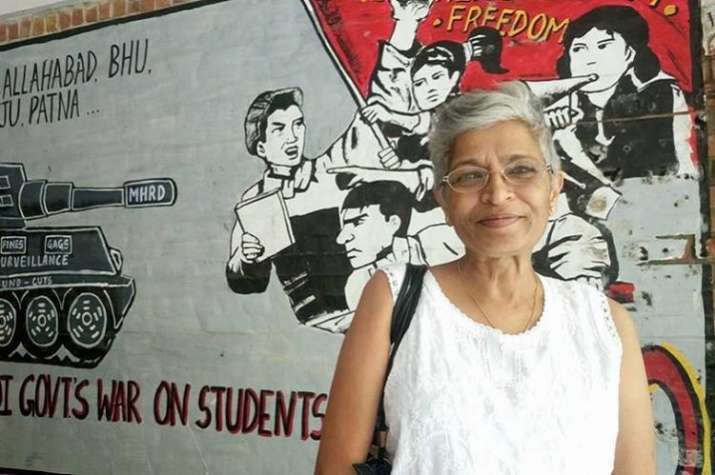 Senior Kannada journalist and activist Gauri Lankesh, was shot dead at her home in Bengaluru on Tuesday, police said. Deputy Commissioner of Police (West) M N Anucheth said she was shot dead at her residence in Raj Rajeshwari Nagar. 
A known critic of Hindutva politics, Gauri, aged 55, had returned home in her car and was opening the door to her residence when motorcycle-borne assailants fired at her indiscriminately.
She received three bullet injuries, with two hitting her in the chest and one on her forehead, police officials said. She died instantaneously. 
Four bullets hit the compound wall of her building in Rajarajeshwari Nagar, the officials said. 
"We learnt that the victim was shot dead from close range when she was standing at the gate of her house in Rajarajeswari Nagar (in the suburbs) around 8.30 p.m.," a senior police officer in Police Commissioner's office told IANS.
"We will set up a special team to investigate the incident," said the official. 
Bengaluru police commissioner T Sunil Kumar, along with senior police officers, rushed to the spot and officials said it was not immediately known who carried out the attack and the motive behind it. 
Police suspected that she was under surveillance of the assailants who must have trailed her closely. 
Gauri Lankesh had ideological differences with right wing outfits and wrote extensively against Hindutva groups and the BJP. 
She edited Kannada tabloid 'Gauri Lankesh Patrike' besides owning some other publications. She was the eldest daughter of Kannada poet turned journalist P Lankesh. 
In November 2016, she was convicted in a defamation case filed by MP Prahlad Joshi and BJP leader Umesh Dushi, who had objected to a report against the party leaders. A Court in Hubballi, Karnataka had imposed a fine of Rs 10,000 on her along with a six-month jail term.
Police have cordoned off the area around her house. Senior police officials, including Deputy Commissioner of Police (West) M N Anucheth, rushed to the spot to supervise investigation. 
Karnataka police chief R K Dutta said Gauri had not voiced apprehension about any threat to her life during a couple of meetings he had with her. 
Asked about who could be the possible suspects in the killing, the officer refused to hazard any guess, saying "let the investigation proceed first." 
CM Siddaramaiah expresses shock, BJP seeks his resignation
Chief Minister Siddaramaiah termed her death shocking. The chief minister said three police teams have been constituted to probe the killing. Instructions have been issued to crack the case and bring the culprits to book at the earliest, he said. 
He said recently Gauri had been instrumental in bringing Naxalites into the mainstream and they had surrendered. 
"It's shocking news for me. No one who has faith in humanity will ever kill anyone. Gauri Lankesh was secular and helped government bring the Naxals back to the mainstream," said Siddaramaiah. 
He wondered why Gauri didn't tell the government about the threat to her life though she had met him many times.
Home Minister Ramalinga Reddy drew parallels between the gunning down of Gauri and rationalists Narendra Dabholkar and M M Kalburgi, allegedly by fringe Hindu groups. Dabholkar was shot dead in August 2013, while Kalburgi was gunned down in August 2015. 
"Who is behind the incident, is it the Naxals or any other ideological fringe parties were behind the incident will be known only after investigation. It is very premature to hold anybody responsible for the incident," Reddy said. 
Siddaramaiah also said he has asked police to get in touch with their Maharashtra counterparts probing the murder of Dabholkar. 
"I do not know how to react. The assailants should be brought to the book. The case should be handed over to CBI," Gauri's brother Indrajit Lankesh said. 
In a statement, RSS state unit expressed deep sorrow over the "heinous" murder of Gauri. "RSS appeals to the state government to act soon on the criminals responsible and bring them to the book," it said. 
Veteran BJP Leader K S Eshwarappa rapped the Siddaramaiah government for "failing" to protect the lives of people, including those of noted writers like Kalburgi and Gauri. Gauri was convicted in a defamation case filed by BJP MP Prahlad Joshi over a report published in her tabloid against some saffron party leaders. 
Minister of State for Information and Broadcasting Rajyavardhan Rathore took to Twitter to denounce the incident. 
"Terrible news from Bengaluru about the heinous murder of Gauri Lankesh. I condemn all acts of violence against journalists," he said. 
Congress vice president Rahul Gandhi said "truth cannot be silenced" and demanded that the culprits be tracked down and punished. 
"The truth will never be silenced. Gauri Lankesh lives on in our hearts. My condolences &love to her family. The culprits have to be punished," his office said in a twitter post. 
BJP national general secretary P Muralidhar Rao said, "The murder of #GauriLankesh is condemnable outright. Onus is on Sh.Siddaramaiah to ensure proper investigation." 
"If it is BJP ruled state, Liberals would have cried for emergency, Intolerance, Fascism," tweeted National Conference leader and former Jammu and Kashmir chief minister Omar Abdullah. 
Lawyer-activist Prashant Bhushan tweeted: "Shocking & tragic! Brave journalist Gauri Lankesh who exposed the BJP has been shot dead in her home in Bangalore!" 
Gauri was a journalist-activist, known for her anti-establishment, pro-poor and pro-Dalit stand. 
Among very few woman editors in Kannada journalism, she was a fierce activist, who openly expressed her pro-Naxal and Leftist views. 
Born in 1962, Gauri was the daughter of legendary Kannada journalist and founding editor of Kannada weekly tabloid 'Lankesh Patrike'. 
Her siblings -- Kavitha and Indrajit Lankesh -- are film and theatre personalities. 
Press Club of India condemns Gauri Lankesh's murder
"A fearless and independent journalist who gave voice to many causes and always stood up for justice has been shot dead in the most brutal manner in order to silence her voice," the PCI said in a statement. 
"The fact that she was shot dead at her Rajarajeshwari Nagar at a busy hour on Tuesday evening only indicates how fragile law and order situation has become in Bengaluru and miscreants and criminals are having a free run in the Capital city of Karnataka," the Press Club of India said. 
It demanded that her attackers be identified and brought to book in a swift manner. 
"Reports have pointed to the involvement of some men in her killing, who shot her from close range at her residence. "Whatever differences she had with anyone, it was certainly not the way to attack an outspoken journalist who was defenceless and had nothing to offer by way of resistance. Such attacks on the freedom of press will not be tolerated," the Club said. 
The PCI, along with Press Association and Indian Women Press Corps (IWPC), will hold a protest meet tomorrow at 3 pm, against the killing of Lankesh.