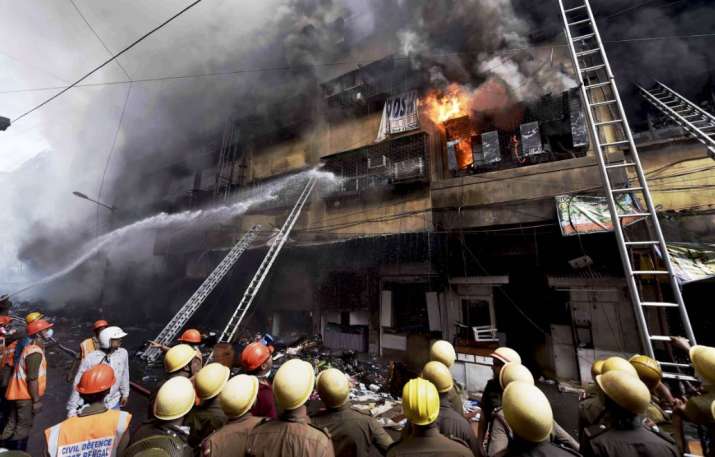 A massive fire gutted at least 1,000 business establishments in Kolkata's Bagree Market, causing huge losses to traders ahead of the Durga puja festival. The blaze, which erupted around 2.30 am on the ground floor of the multi-storey building in the congested Canning Street, continues to rage on, the Director General of West Bengal Fire and Emergency Services, Jagmohan, said.
"We have been able to control the blaze from spreading to neighbouring buildings, but it's still raging. The huge amount of inflammable materials stacked inside is not helping our efforts," Jagmohan told PTI, adding that it will take 24 to 48 hours to control the blaze. Efforts were on to bring hydraulic ladders inside the area to boost the fire fighting measures, he said.
Police received a call on emergency number 100 at 2.35 am, following which the fire personnel swung into action.
Also read | Fire continues to rage at Kolkata's Bagree Market; 1000 shops gutted in inferno
Thirty-five fire tenders have been pressed into service to tame the flames at the over 60-year-old building, around a kilometre away from the Writers' Building and the Reserve Bank of India office.
No loss of life has been reported but six persons, including two fire fighters, fell sick inhaling the toxic smoke, police said. The sick persons were treated at the Calcutta Medical College Hospital and later discharged.
West Bengal: Visuals from Kolkata's Bagri market on Canning Street where fire had broken out today morning. Fire fighting op is underway. DG Fire dept says 'Fire at the front side of the building has been brought under control. Operation is underway to douse fire at the backside' pic.twitter.com/YDtnqFrVg1

— ANI (@ANI) September 16, 2018
Chief Minister Mamata Banerjee, who left for business summits in Germany and Italy around 9.45 am, told reporters at the airport that nobody is trapped in the building.
"As the area is very congested, we are finding it difficult to work. We are using ladders and gas cutters to enter the building through window grills. A forensic team will visit the site soon to ascertain the cause behind the incident," a senior fire official said.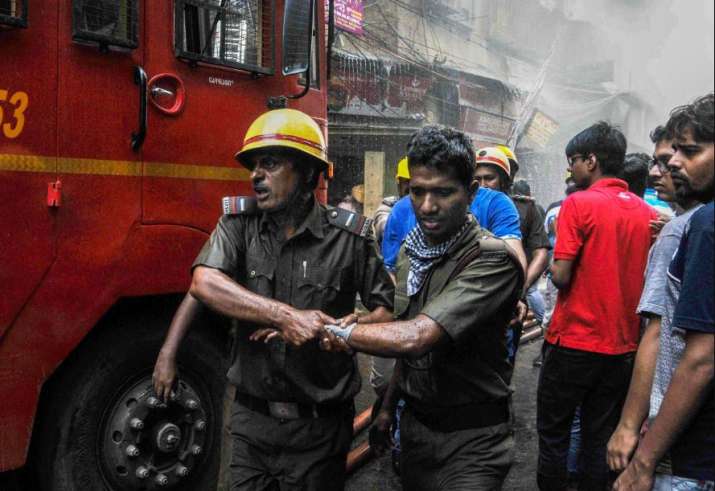 Problems for the fire fighters compounded as air conditioning machines burst, cracking open windows due to pressure of accumulated gases inside the building, and several LPG cylinders exploded, he said.
The fire tenders are carrying water from nearby water risers in the area, he added.
A senior official of the Calcutta Electric Supply Corporation said power supply to the entire area has been temporarily cut off.
"The entire area was de-energised and that will continue till the fire is doused completely. Power connectivity to the transformer adjacent to the Bagree market has also been snapped.
"We have set up temporary lighting to help the fire fighters continue their operation, taking power from a nearby transformer," the official told PTI.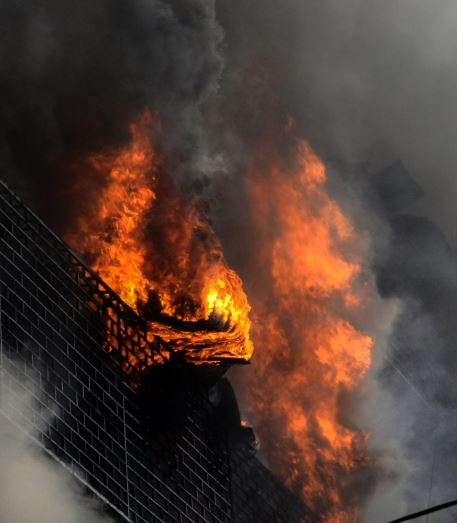 Fearing that the blaze may spread, people were evacuated from adjacent buildings, and shop keepers shifted their goods elsewhere.
Mayor Sovan Chatterjee, who reached the spot along with senior police officers and Kolkata disaster management group (DMG) officials, said that fire tenders were making efforts to bring the fire under control.
"Time has not come to say that it is under control. Our men are working at it. We are hopeful that the fire will be doused soon," Chatterjee said.
Earlier in the day, he told reporters that market authorities had not installed fire safety equipment despite warnings.
As a precautionary measure, traders in adjacent markets have been asked not to open their shops tomorrow. 
"In any case, it's not possible to open our shops tomorrow. Our friends who are having businesses in the Bagree market are suffering. We will not open our shops to show solidarity with them," Azgar Ali, a shop owner of the nearby
Mehta building, said.
A few shop owners have alleged that fire officials took time to start the operation. Some were also seen trying to enter the building forcefully, but were stopped by police and fire department officials.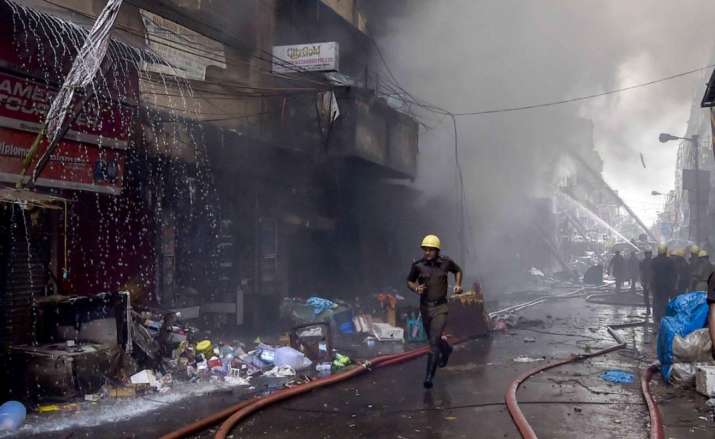 Anil Mehta, one of the shop owners, said, "I have lost everything in the blaze. My store as well as the godown has been gutted in the fire."
Meanwhile, the opposition BJP and the Congress have blamed the ruling Trinamool Congress government for its failure to prevent incidents of fire in multi-storey buildings.
"A proper independent probe should be instituted into the fire incident to cover all aspects, including the conspiracy or sabotage angle," BJP state president Dilip Ghosh.
West Bengal Pradesh Congress President Adhir Chowdhury said, "Mamata Banerjee wanted to turn Kolkata into London, but everything has turned topsyturvy under her government, with the recent Majerhat bridge collapse and this devastating fire incident." 
Watch video: