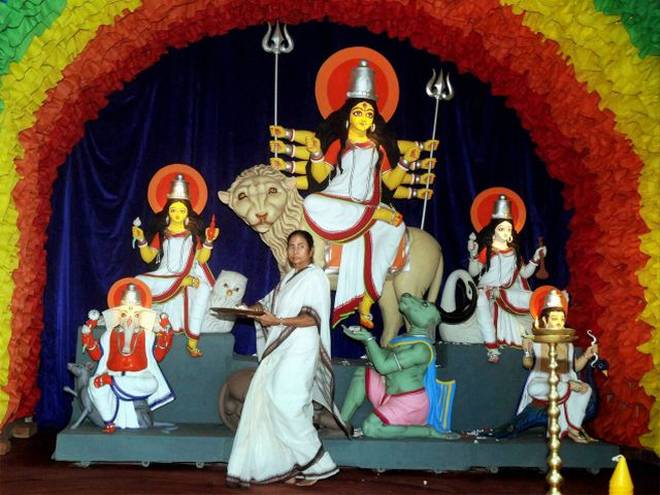 The West Bengal government on Friday said that it has decided not to contest the Calcutta High Court's order allowing immersion of goddess Durga idols on all days. However, in a bid to circumvented the court's directive, the Mamata Banerjee government said that state police administration will ask all puja organisers to take permission for immersion on Muharram which falls on October 1. 
The decision was taken during a meeting of top officials presided over by Chief Minister Mamata Banerjee. According to a senior state government official, it was decided that the police will ask the puja organisers to take permission by this Sunday if they want to immerse the Durga idols on October 1.
The meeting, also attended by some ministers and senior police officers, including the state Director General of Police (DGP), decided that the superintendents of police (SPs) in the districts having international border would be put on alert on immersion days to avoid any untoward incident, the official said. 
The state government had earlier imposed restrictions on immersions after 10 pm on Vijay Dashami (Dussehra) on September 30 and had said that no immersion would be allowed on Muharram scheduled to be observed on October 1. The High Court, however, on Thursday revoked the order and allowed immersion on all days including Muharram 
The court had even directed the West Bengal government to make necessary security arrangements and asked the state government to chalk out designated routes for immersion and tazia processions. The directions by the High Court came on three public interest litigations (PILs) challenging the restrictions on the immersion of idols at the end of the five-day Durga puja festival.