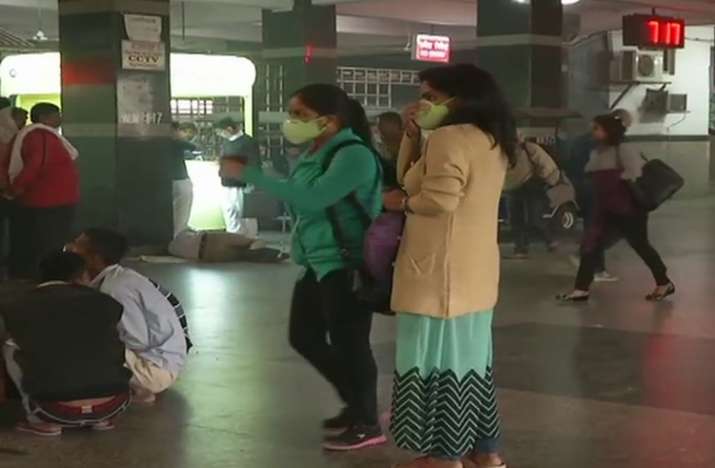 A thick grey smog continued to engulf the national capital for the third consecutive day today, throwing the life out of gear as traffic snarled on roads due to low visibility. Air traffic at the Indira Gandhi International (IGI) Airport was also hit as many flights were delayed due to low visibility.  
Rail authorities in Delhi said at least 10 trains have been cancelled, 9 have been rescheduled and 41 are running late due to visibility problem. 
On Thursday morning, Air Quality Index stayed in 'Hazardous' category with the AQI touching as high as 799 in some areas.
As per the order of Delhi government, schools in the city will remain closed till Sunday. 
Authorities have also taken some stringent pollution control measures. Lt Governor Anil Baijal on Wednesday approved the Environment Pollution (Prevention and Control) Authority's decision to enforce these measures enlisted under the 'severe plus' or emergency category of the Graded Response Action Plan (GRAP) in a meeting attended by Chief Minister Arvind Kejriwal. 
Under these emergency measures, construction activities will be halted and entry of trucks in the city will be banned among other steps. 
A decision on whether or not to implement the odd-even car-rationing scheme will be taken today. 
"The Central Pollution Control Board (CPCB) task force has advised EPCA that given the prevailing air pollution emergency in the city, there is a need to take actions which are listed in the severe plus category," it said. 
After Diwali last year, Delhi witnessed a similar episode of smog which lasted nearly a week, prompting authorities to declare such emergency measures for the first time in the city's history. 
The metro and Delhi Transport Corporation have also announced decisions to augment services by pressing more trains and buses into service, in a bid to reduce dependence on private vehicles. The Delhi Metro Rail Corporation Limited (DMRC) will run an additional 186 train trips from today. 
The Indian Medical Association had declared a "public health emergency" and appealed to the government to stop outdoor sports and other such activities in schools to protect the health of children.