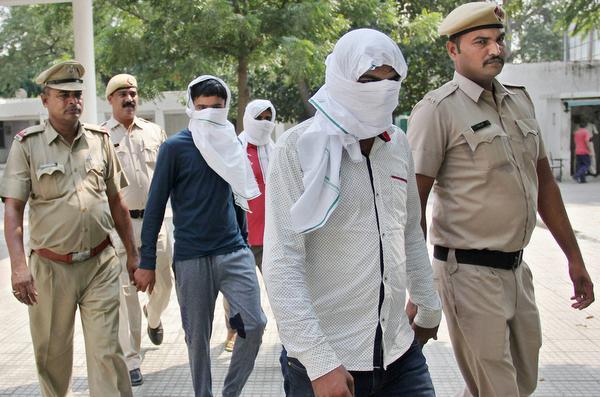 A 22-year-old man, along with two accomplices, was arrested from Manesar for killing his mother and sister over alleged prostitution in Gurgaon, the city police said on Monday.
On September 19, Sumit Kumar along with Dharamveer and Pradeep Kumar, fatally shot his 38-year-old mother and 16-year-old sister, as he objected to his mother's prostitution business which she operated from their house.
Dharambir's father, Satya Narayan, a head constable with the Delhi police, reportedly helped solve the case, according to Hindustan Times.
During an interrogation, Sumit told police that Sunita was also responsible for poisoning his father, Jai Prakash, in 2000. However, there was no case lodged at the time to back his claim.
"Sumit had an objection to his mother's prostitution business. She had dragged her daughter too into prostitution," Deputy Commissioner of Police (West) Sumit Kuhar told reporters. 
"We are interrogating the accused in police remand," Kuhar said. Sumit Kumar told the police that his mother had killed his father Jaiprakash in 2000 by administering poison to him. 
The bodies had been found near IMT Chowk on September 19, and cremated 72 hours later by MCG when they could not be identified.
Sumit Kumar, a resident of Delhi's Prem Nagar near Najafgarh, hatched the conspiracy and persuaded his mother and sister to visit a religious place in Rajasthan with him and the two other accomplices. 
Around 11.30 p.m. on September 18, the five of them reached Industrial Model Town at Manesar in a car and shot his mother and sister at point-blank range.
The trio were arrested on Sunday by Palam Vihar Crime Branch chief Mahender Singh and his team at Manesar on Delhi-Jaipur National Highway 8, after local residents of the area complained of their suspicious movements. 
Two country-made pistols and cartridges were recovered from the car.  Sumit's accomplices Dharamveer and Pradeep are aged around 25 years and belong to villages close to Najafgarh.
IANS inputs