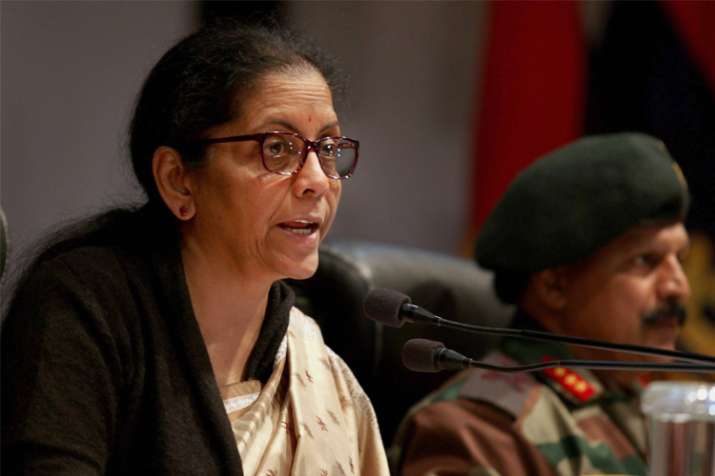 Defence Minister Nirmala Sitharaman on Monday said that Pakistan will have to pay for the 'misadventure', referring to the attack on Sunjuwan Army camp in Jammu which claimed six lives, including five jawans. 
Addressing a press conference after meeting Jammu and Kashmir Chief Minister Mehbooba Mufti, Sitharaman said that the terrorists belonged to Jaish-e-Mohammed and were sent by Masood Azhar to carry out the attack. 
She also said the militants possibly had support from some locals as well. "Terrorists belonged to Jaish-e-Mohammed, sponsored by Azhar Masood residing in Pakistan and deriving support from there in. There is possibilty that they enjoyed local support, though they were controlled by their handlers from across the border," she said.
Giving details about the attack, Sitharaman said that there were six casualties, which included a civilian. 
"Six fatal casualties, including a civilian were caused by terrorists. Three terrorists have been eliminated. There were reports of four terrorists. The fourth terrorist must have been a guide and may not have entered the Camp area," she said. 
"The counter terrorist operation in Sunjuwan was called off today at 10.30 am. However the sanitisation operation is on," she added.
Hitting out at Pakistan, Sitharaman said that Islamabad has been expanding the arc of terror to areas south of Pir Panjal range and resorting to ceasefire violations to abet infiltration of terrorists into the Indian side of the border.
"Giving the evidences to Pakistan will be a continuous process. It will have to be proved over and over again that they are responsible. Pakistan will have to pay for this misadventure," said the defence minister. 
Sitharaman also said that the evidences are being scrutinised by the National Investigation Agency (NIA), and will be handed over to Pakistan.