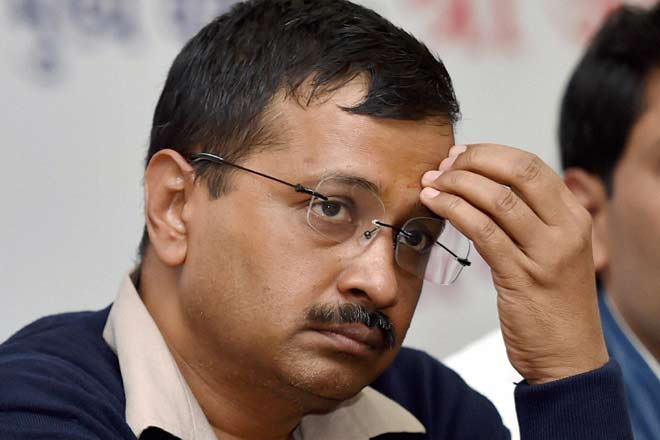 Delhi Chief Minister Arvind Kejriwal on Thursday condemned the attack on a school bus in Haryana's Gurugram, while adding that he was not able to sleep the entire night.
Terming the attack by the frenzied mob "shameful", Kejriwal appealed to people to speak up against divisive forces. 
"Some people pelted stones on school children in Gurugram, yesterday. I couldn't sleep entire night. If our children are pelted with stones on Republic Day eve, a few kms away from the country's capital, it is a matter of shame for the entire nation," Kejriwal said.  
"They killed Muslims, burnt Dalits alive, thrashed them. Today, they have started pelting our children with stones, have started intruding into our comes. Don't remain silent now, speak up," he added. 
The Delhi chief minister was speaking at a state-level event to celebrate Republic Day at north Delhi's Chhatrasal Stadium here.
In the nearly 40-minute-long speech, Kejriwal said people involved in yesterday's incident should be given strong punishments, "harsher than the punishment Lord Rama had given to Ravana". 
"It is the land of Rama, Krishna, Gautam Budhha, Mahavira, Guru Nanak, Kabir and Meera, followers of Prophet Mohammad and Jesus Christ. I want to ask were the people who hurled stones Hindus, Muslims or Christians? Which religion preaches violence against children? "I am raising this issue ahead of Republic Day with a heavy heart as I love my nation. I cannot see such violence in the country. People here love their country and want peace and love. I request the powers at the Centre (Hukum marano), please spare us," he said.
Agitators demanding a ban on the film attacked a school bus in Haryana's Gurugram on Wednesday afternoon. More than a dozen children of the GD Goenka World School were traveling in the bus with teachers and staff when stones were pelted on their vehicle by a frenzied mob. However, the driver managed to drive away from the attackers and maneuvered the bus to safety. Bus windows were damaged but students escaped unhurt.
A Haryana Roadways bus was also set ablaze and another vandalised in Bhondsi area of Gurugram district by a group of around 50 men to protest against the release of "Padmaavat".
In wake of the violence, some reputed schools in Gurugram decided to remain shut till Sunday, including Pathways school, GD Goenka school, Shiv Nadar school and Delhi Public School.
Karni Sena denied any role in stone pelting on the school bus, with the fringe group's spokesperson saying "Rajputs can never think of attacking a school bus. This is a plot being created by politicians, who wish to weaken our peaceful protest"
At least 18 people have been arrested in connection with the Gurugram school bus attack in the last 24 hours.