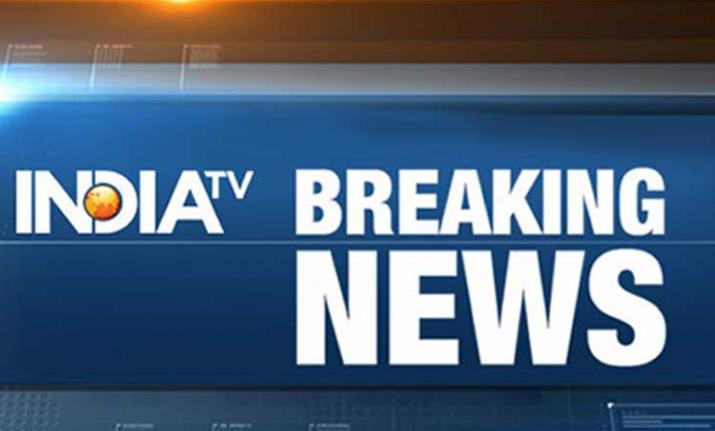 Daily dose of news plays very important role in our daily life. For some people, the morning is incomplete without knowing about what's happening across the world. Some digital-savvy people have a habit of consuming news even when they are travelling or in their free time. In today's world, where people rely on news websites for everything that's happening around, IndiaTV News provides you all breaking news, latest news, breaking story videos, Live TV and top shows of IndiaTV, country's leading news channel on a single platform to ensure you don't miss anything important.
Internet, Twitter, Facebook are buzzing with breaking news and news alerts from India and rest of the world. You can find here all breaking news alerts and latest news updates on just one page. IndiaTV Digital covers all top news as and when it happens and ensures its readers don't miss anything important.
BREAKING NEWS OF OCTOBER 29:
5:00 pm: Pakistan army administrative HQ targeted along LoC near Poonch by Indian Army in retaliation to Pakistan's mortar shelling of Poonch and Jhallas on October 23
4:45 pm: Delhi's Patiala House Court: CBI DSP Devendra Kumar who was arrested by CBI last week in connection with Moin Qureshi bribery case has moved bail application before a special court. His CBI custody gets over tomorrow
4:30 pm: SC asks Central Pollution Control Board to open social media account where citizens can complain regarding pollution in Delhi. SC asks Delhi transport dept to add on its website,list of more than 10 yr old diesel&more than 15 yr old petrol vehicles so that they can be impounded
4:10 pm: We have agreed for a 2+2 dialogue between our Foreign Ministers & Defence Ministers. The aim of this is to further work towards world peace & stability: PM
3:40 pm: We both agree that from digital partnership to cyberspace, health, defence, ocean to space, in every field we will strengthen our partnership. I have been told that today Japan investors have announced that they will invest 2.5 billion US dollars in India: PM
3:10 pm: PM Narendra Modi and Japan PM Shinzo Abe sign & exchange agreements between India & Japan, in Tokyo
2:45 pm: Kerala police have arrested 3505 protesters till now on charges of creating violence in connection with Supreme Court verdict to allow women of all age groups to enter Sabarimala Temple. 529 cases were registered across the state till yesterday
2:20 pm: 'This is a fight between two elephants and one mouse has been caught in between', says Counsel for Manoj Prasad in Delhi High Court. Prasad, a Dubai based investment banker is accused of taking a bribe and was arrested on 17th October by CBI in Rakesh Asthana case
2:00 pm:  External Affairs Minister Sushma Swaraj & Qatari Dy PM & FM Sheikh Mohammed bin Abdulrahman Al Thani sign a joint declaration to establish a joint commission
1:50 pm: Sensex up by 533.38 points, currently at 33,882.69; Nifty currently at 10,183.00
1:33 pm: Assam: Justice Ajjikuttira Somaiah Bopanna, a judge of the Karnataka High Court, was sworn-in as new chief justice of the Gauhati High Court today. Assam Governor Jagdish Mukhi administered the oath of office to Justice Bopanna at Raj Bhavan.
1:00 pm: Supreme Court has rejected a PIL filed by an advocate, GR Mohan, seeking its direction to appoint judges in Karnataka High Court.
12:40 pm: Bihar: Security forces recovered and defused a 10 kg cane bomb today that was planted by Naxals on Dholpur-Mithapur route.
12:30 pm: PNB Scam case: Nirav Modi's lawyer has filed an application before the Special PMLA court, Mumbai to transfer the case to Special CBI Court so that it could be heard by one single court.
12:10 pm: Bombay High Court has refused to stay framing of charges in 2008 Malegaon blasts case scheduled for tomorrow and has posted Lt Col Prasad Purohit's plea challenging Special NIA court orders on UAPA Sanction till 21st November.
12:00 pm: Former Bangladesh premier Khaleda Zia sentenced to seven years in jail in graft case.
11:50 am: SC says it will fix Ayodhya dispute case hearing in January 2019
11:37 am: Tamil Nadu government approaches Supreme Court seeking reconsideration of its order on fire crackers restrictions, saying crackers bursting time should be extended.
11:34 am: SC issues notice to rights activists on plea of Maharashtra government challenging Bombay HC order in Koregaon-Bhima violence case
11:30 am: Supreme Court refuses to entertain a PIL filed by 'Bengali United Forum of Assam' seeking a report from the West Bengal government on the alleged harassment of a number of Bengal citizens in the NRC (National Register of Citizens) updation case.
10:50 am: Supreme Court adjourns hearing in Uphaar fire tragedy case for January 19.
10:45 am: When I took over the responsibility of the government in 2014, India was at 140th position in the 'ease of doing business' ranking of the World Bank. Now India has reached 100th position & we are working towards better ranking: PM Narendra Modi in Japan's Tokyo
09:59 am: Market opening bell: Sensex opens in green, gains 175 points; Nifty at 10,080
09:32 am: Basir Mujahid, a spokesman for Kabul police chief has confirmed the explosion close to IEC office in PD9 of Kabul city but said that no reports on casualties yet: TOLO News #Afghanistan
09:19 am: A voter has no religion, he votes for a person who works for the development of the country. Our party has never sought votes on the basis of religion: Rajasthan Minister Gulab Chand Kataria in Jaipur yesterday
09:09 am: Delhi: Three people dead after being run over by a train near Nangloi railway station at around 7:30 am today; they were drinking alcohol on the tracks. Deceased have not been identified
08:50 am: Rajasthan Minister Dhan Singh asks Hindus to unite and vote for BJP, "If Muslims can all vote for Congress then why can't Hindus vote for BJP," the minister said at a poll rally on October 26, reports ANI
08:32 am: Air Quality Index of Delhi's Lodhi Road area; prominent pollutants PM 2.5 at 263 and PM 10 at 249
08:22 am: Indonesian Air flight travelling from Jakarta to Pangkal Pinang, crashes shortly after take-off, reports Reuters quoting Indonesia search and rescue official.
07:50 am: The Indonesian authorities have mounted a search and rescue operation for the missing Lion Air plane, which lost contact with air traffic controllers at 6.33 am today: The Straits Times
07:40 am: Delhi: According to Joint CP South Eastern Range, a case has been registered under section 354 IPC & POCSO Act, in connection with the alleged sexual assault of a 16-year-old French national who had come to Delhi as a part of a student exchange program
07:30 am: Lion Air flight from Jakarta to Pangkal Pinang goes missing 13 minutes after take-off, reports Singapore's Strait Times
07:20 am: US attorney in Pittsburgh says he's seeking approval for the death penalty against shooting suspect Robert Bowers: The Associated Press
06:00 am: Petrol & diesel prices in Delhi today are Rs 79.75 per litre (decrease by Rs 0.30) & Rs 73.85 per litre respectively. Petrol & diesel prices in Mumbai today are Rs 85.24 per litre (decrease by Rs 0.30) & Rs 77.40 per litre (decrease by Rs 0.21), respectively.