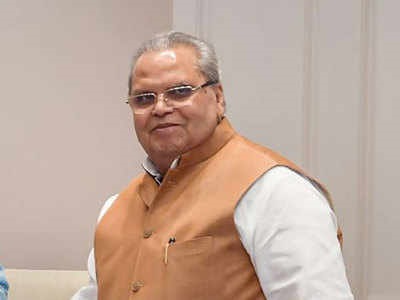 A delegation of Bharatiya Janata Party (BJP) led by state president Ravinder Raina on Saturday met Jammu and Kashmir Governor Satya Pal Malik over issues related to development in the state. The meeting was conducted at the Raj Bhavan, confirmed an official spokesperson.
The Governor-led state administrative council, during a meeting on Friday, had decided to conduct elections to urban local bodies and panchayats in the month of October-December this year, which was welcomed by the BJP leaders.
The spokesperson said the decision was described as a step towards empowerment of people at grass root level by the delegation members.
Issues related to a significant number of roads, bridges and other development works in the state was also raised by the group, the spokesperson added.
They also apprised the Governor about the various problems being faced by the Kashmiri migrants including their rehabilitation, provision of basic amenities in migrant camps in Jammu and elsewhere, and protection of their properties and temples from encroachments in the valley, the official said.
There will be a close monitoring of the execution of development activities in the state to ensure completion within envisaged timelines, the Governor assured the delegation.
The Governor observed that he would himself visit Kashmiri migrants' camps in Jammu and elsewhere to take stock of their problems and urged them to work towards bringing peace and prosperity in the state, the spokesperson said.