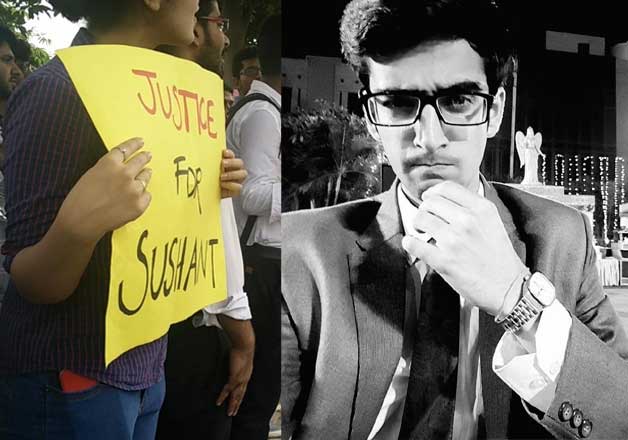 Noida:  Family and friends of  Sushant Rohilla, a fourth year BA LLB student at Noida's Amity Law School who hung himself to death on August 10, have continued their protest against  the college  for second consecutive day. 
The 21 year old Rohilla reportedly committed suicide at his Sarojini Nagar residence after he was debarred from appearing in the sixth semester exams in May due to "shortage of attendance".
Friends and family members have claimed that Rohilla took the extreme step after having been harassed for his lack of attendance and threatened with having to re-take a year, after not having been able to fulfil the college's attendance requirement for after a foot injury.
In his suicide note, the deceased said he was ashamed of not being a good son, a good brother, and a good friend. "It is unclear why he took the extreme step. He wrote he was a failure and did not wish to live," a senior police officer told Hindustan Times.
According to his family, Sushant and 19 other students, who were not permitted to take the exams, were promised that they will be allowed to take the exams and promoted to the next semester.
"The college authorities did a volte-face and sent him an email, one month after the exam, stating that he had been detained due to short attendance and he should apply for readmission in the same semester. He was under lot of pressure since," Mehak Rohilla, the deceased's sister said.
She shared an email he sent to the college wherein he requested them to not debar him from semester examinations due to shortage of attendance. "Please do not debar me, it will hamper my life to unimaginable extent. Please help me sir, if I get debarred, I might not mentally survive this," he wrote in the email on May 11.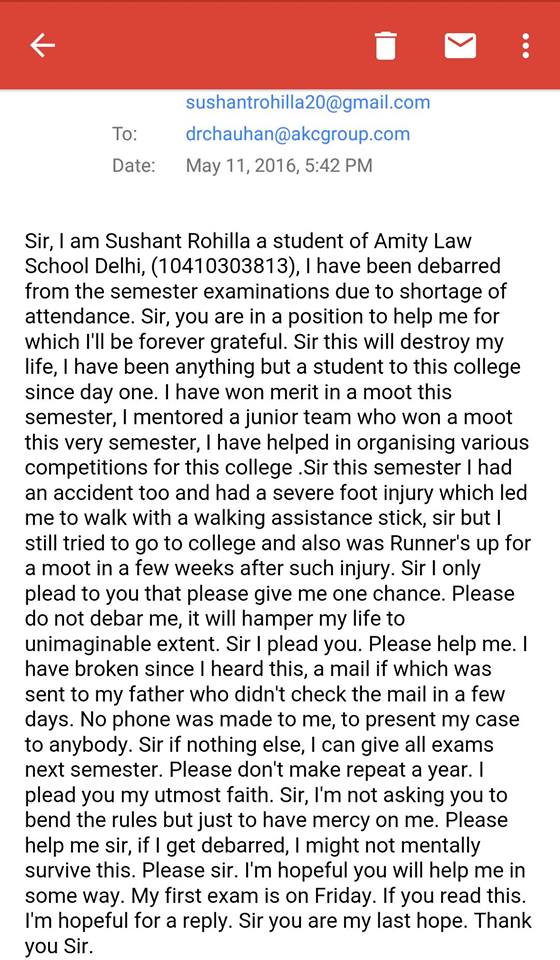 A Facebook post by the father of the student, Jagdish Kumar, who holds the post of vice-secretary in Rajya Sabha and one by his uncle Dinesh Rohilla have gone viral.
In his post, the uncle, who is also an advocate, has directly blaimed "a callous and arbitrary system of Amity university" for Sushant's death.
He alleged that he was detained over "a minor issue of shortage of attendance" which is quite evident from the "email sent by him to the concerned, responsible person of Amity." He has also shared an email to the chancellor of the Amity University Ashok Chauhan as "a last hope". 
He had had posted on 14 August on Facebook alleging that: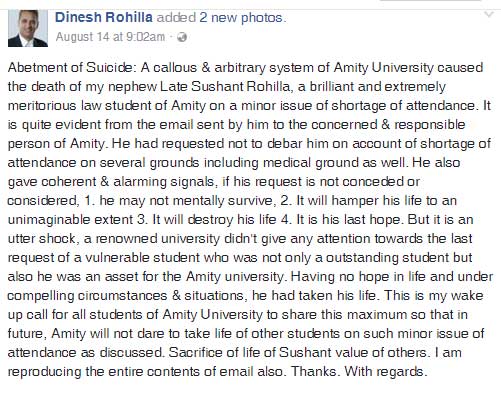 Amity University, however, has denied of having any role in Rohilla's death and expressed grief over the incident.
In a statement, Amity University said, "ALS Delhi is affiliated to Guru Gobind Singh IP University (GGIPU), Delhi. The students were detained as per the decision of GGIPU and in that Amity Law School itself had absolutely no role. The law school officials had gone to meet the bereaved parents and pay condolence. The parents of the deceased have expressed that there is no fault of Amity Law School Delhi in this tragic incident," it said.
An online campaign by the name "Justice for Sushant" has been started on Facebook and Twitter with some students even tweeting to HRD minister Prakash Javadekar.
Holding placards with slogans like "Autocracy in Amity Law School (GGSIU) killed a boy", students demanded the resignation from the director of the school BK Sehgal and a professor Ishita Rutabhasini.
There has been a massive outpour of support for Sushant on social media sites: 
#JusticeForSushant
WHY MUST A STUDENT BEG TO THE AUTHORITIES FOR SOMETHING THAT IS HIS RIGHT? pic.twitter.com/oEtv3yHlyK

— Avni Sharma (@AvniSharmaa) August 16, 2016
We thank everybody who supported us.
Our fight will continue against the atrocities of ALS Delhi. #JusticeForSushant pic.twitter.com/xeyBXUoMON

— Prafulla Pathak (@sarngarava) August 16, 2016
This is a thread worth reading https://t.co/KHIikh6w8K

— Tanmay Bhat (@thetanmay) August 16, 2016
We had a teacher who used to parade the boys shirtless in the whole school just because they wouldn't do their homework

— Harridan (@brawling_virago) August 16, 2016