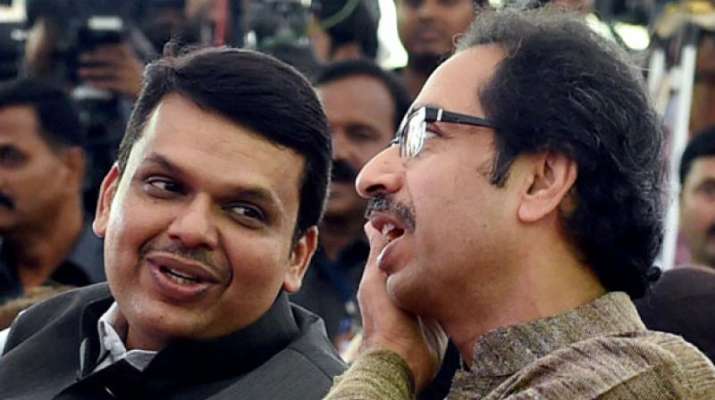 In the run up to the Palghar Lok Sabha bypoll, Shiv Sena chief Uddhav Thackeray released an audio clip, purportedly of Chief Minister Devendra Fadnavis asking BJP workers to use all possible means to win the by-election. 
Thackeray released the audio clip while addressing a rally last night in Palghar where the bypoll will be held on May 28. 
The BJP alleged that the Sena had tampered with the audio clip and that it would release its complete version soon. The party said it would also complain to the EC about the "misuse of technology". 
In the purported audio-clip -- as yet unverified -- which has gone viral on social media and television networks, Fadnavis is directing Bharatiya Janata Party activists to use "Saam, Daam, Dand and Bhed" and win the Palghar by-polls at any cost.
"We have a huge challenge before us....Some people are challenging our very existence. They are behaving like friends but backstabbing us and we must hit back. If anybody is bullying (dadagiri) us, we must attack them. They must know that I am a bigger bully. I am firmly standing behind you," Fadnavis' voice is heard in Marathi.
Last fortnight, Fadnavis had made it clear to all that the Palghar electoral battle would be a tough one when he said: "Come what may, we shall win Palghar seat. This was a BJP seat. What the Shiv Sena has done is wrong. Winning it would be a fitting tribute to the late Chintaman Vanga."
Ruling ally, Shiv Sena President Uddhav Thackeray further embarrassed the BJP by playing the audio tape in his public rally on Friday evening, raising the hackles of the partner.
Thackeray, along with state Congress President Ashok Chavan, Bahujan Vikas Aghadi President Hitendra Thakur and other political leaders demanded that the Election Commission should take note of the 'threatening' content in the audio-clip and initiate suitable action against Fadnavis.
However, BJP spokesperson Girish Vyas and other senior leaders dismissed the audio-clip as 'doctored' and said the party would lodge a police complaint in the matter on Saturday, even as Fadnavis was likely to comment on the issue.
This was the second jolt for the BJP in two days as the curtains fall on Palghar by-elections campaigning.
A couple of days ago, Shiv Sena activists caught some alleged BJP workers with a large amount of cash which were reportedly intended for distribution among the voters.
(With PTI and IANS inputs)