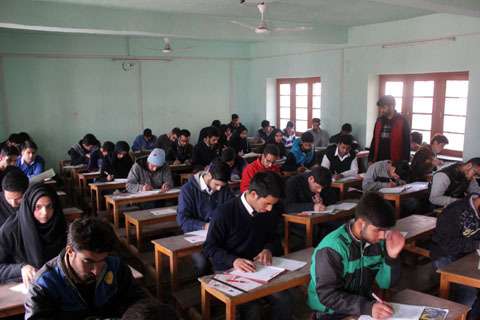 Taking a strong-willed stand against separatists' diktat to force shutting down of schools and colleges since the last four months in the Valley, at least 95 per cent students appeared for their state board exams on Monday, says a Times of India report. 
Since all educational institutions including schools have remained closed since July 9 following the killing of Hizbul militant Burhan Wani, the syllabus for the final examination has been reduced by 50 per cent. 
Studies have been severely hit, with rioting mobs torching more than 30 schools during four months of protests. 
Moreover, at least 400 schools along the IB and the LoC are reportedly affected in the Pakistan shelling of civilian areas.
Class 10 exams will begin on Tuesday and both board exams will be conducted concurrently until December 3 in more than 1,000 centres across the Valley. 
Zahoor Ahmad Chatt, chairman of the Jammu & Kashmir School Board of Education, said out of 32,044 students, 30,292 took their tests on Monday. 
Elaborate security arrangements have been made at all the 484 centres for the smooth conduct of these exams and around 6,200 teachers have been deputed as superintendents and invigilators. 
On the other hand, State education minister Naeem Akhtar has attracted a lot of criticism from the separatist leaders and also a threat from the Lashkar-e-Taiba (LeT) for trying to re-open the schools.