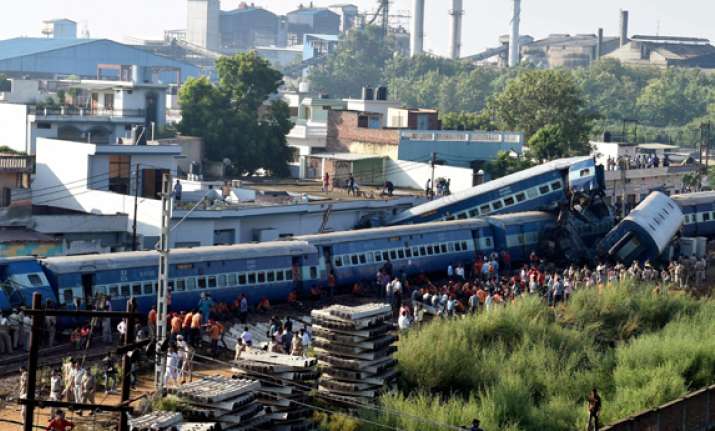 Nearly 53 per cent of the 586 train accidents in the last five years were due to derailments with the Utkal Express derailment being the latest. Notwithstanding the railways' attempts to upgrade the safety apparatus, many such accidents continue to occur. Over 20 people died and 97 were injured after 14 coaches of the Utkal Express derailed near Muzzafarnagar in western Uttar Pradesh on Saturday evening. 
According to official figures, of a total of 586 rail accidents in the last five years, nearly 53 per cent were due to derailments. 
Since November 2014, there have been 20 rail accidents, many of them minor. 
Here are major train accidents of last 5 years:
Indore-Patna Express:
The worst accident in the last five years was the November 20, 2016 derailment of the Indore-Patna Express near Kanpur which resulted in 150 deaths and over 150 injuries. The train pulled out of Pukhrayan station, on the outskirts of Kanpur, and derailed soon after. Several causes, including overcrowding and fracture in the railway line, were attributed to the accident. 
Jagdalpur-Bhubaneswar Hirakhand Express:
39 people were killed and 36 others were injured when nine coaches of Jagdalpur-Bhubaneswar Hirakhand Express train derailed in Andhra Pradesh's Vizianagaram district.
Madhya Pradesh twin train derailments:
The Madhya Pradesh twin train derailments happened on August 4, 2015 when the Kamayani Express, on its way to Varanasi in UP, was the first to derail owing to flash floods in the area, followed by the Janata Express. The total casualty was 31 with over 100 injured. 
Rourkela-Jammu Tawi Muri Express:
The Rourkela-Jammu Tawi Muri Express derailed in Kaushambi district of Uttar Pradesh on May 25, 2015. Eight bogies of the train derailed, leaving five dead and over 50 injured. 
Dehradun-Varanasi Janata Express:
On March 20, 2015 the Dehradun-Varanasi Janata Express derailed in Rae Bareli district resulted in the death of 58 passengers and injuring over 150. 
Bangalore-Ernakulam Intercity Express:
On February 13, 2015, 10 people were killed and around 150 were injured when nine bogies of the Bangalore-Ernakulam Intercity Express derailed on the outskirts of Bengaluru. 
Shivalik Queen:
On September 12, 2015, a narrow-gauge train, the Shivalik Queen, a chartered train from Kalka to Shimla, derailed on September 12, 2015. 36 British tourists and a tour guide were on the train. Two of the tourists died in the accident and 15 were injured.
Secunderabad-Mumbai Duronto Express:
Nine coaches of the Secunderabad Junction-Mumbai Lokmanya Tilak Terminus Duronto Express derailed near Karnataka's Kalburgi town on September 12, 2015, resulting in two deaths and seven injuries.
(With PTI inputs)