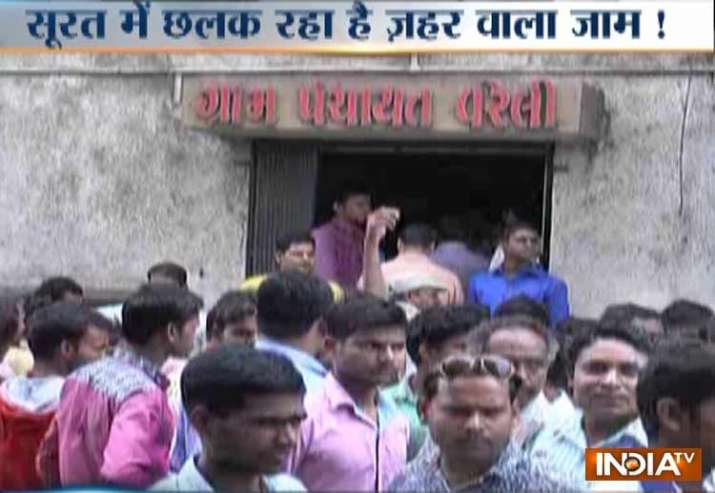 With six more deaths, the toll in the suspected hooch tragedy at Vareli village in Surat rose to 15 on Saturday even as the Gujarat government formed a committee to probe the incident.
Most of the victims are migrant labourers working in textile industry in the district. 
The police have not confirmed the cause of death and say they are still awaiting post-mortem and forensic science analysis report. 
15 cases of unnatural deaths reported in Kadodara PS area, from Sep 4th till Sept 10th: Surat IG Narasimha Komar pic.twitter.com/bjCOI9v4KD

— ANI (@ANI) September 11, 2016
Final post mortem and forensic science analysis report has not been received, so reason not known yet: Surat IG pic.twitter.com/8Q4q1nZjgT

— ANI (@ANI) September 11, 2016
District Development Officer and Collector (in-charge) K Rajesh said that a team of medical officers was camping at the village and had set up a control room to provide medical assistance to the villagers.
"The exact cause of the deaths is yet to be ascertained, though methanol poisoning is not ruled out," Rajesh said yesterday.
 The Forensic Science Laboratory at Gandhinagar was examining the viscera and other samples of the deceased and the cause of the deaths would be known after receiving its report, he said.
Officials did not rule out the possibility of an outbreak of some viral disease as a cause of the deaths. Rajesh said samples had also been sent to the National Institute of Virology in Pune to explore the possibility. 
Surat Collector Mahendra Patel had said yesterday that nine persons had died in the last three days at Vareli and primary medical reports suggested that they died due to consumption of some kind of a poisonous substance like methyl alcohol (which is often found in spurious liquor).
Police said a massive search operation was launched in the area to trace the dens selling hooch. At least six police inspectors, posted in the Surat rural area, were transferred in the aftermath of the incident, they added.
Gujarat Chief Minister Vijay Rupani ordered a high-level probe in the matter. 
"We have appointed a high-level panel to probe in to the matter that prima facie appears to have happened due to consumption of spurious liquor. The team would visit the place of incident and along with forensic report, it will provide state government a complete pictureof the real situation," he said.
"We will not spare anyone found involved in this," he added.
The three-member panel, headed by Additional Director General of Police (Law & Order) V.M. Parigi, and comprising Prohibition & Excise Department Director B.K. Kumar, and Forensic Science Laboratory Director M.S. Dahiya, have been asked to submit their report on the Vareli incident in three days.
Rupani's intervention followed the pressure on the state administration from the locals about the incidents in Vareli village since September 4.
Gujarat is a dry state, meaning sale of liquor is completely prohibited in the state. 
Currently, a bootleger faces maximum one year jail term, while those found guilty of liquor consumption have to face maximum six months of imprisonment.