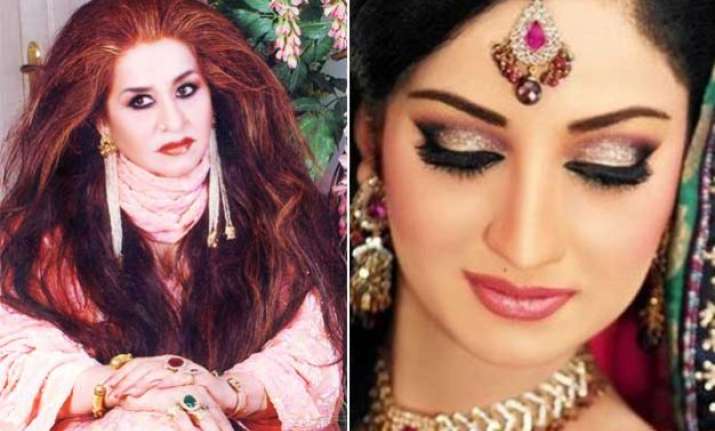 New Delhi: The festival of Navratri has just begun and the whole of India has got indulged in the festivities. The nine day festival, dedicate to nine avatars of Goddess Shakti, will culminate on tenth day with Dussehra or Vijayadashami.
This festivity before the Diwali, always creates great fervour among the ladies. Besides, decorating in-house mandirs, ladies have a special desire to look best throughout the celebrations.
While shopping for new dresses is the common trend, ladies tend to neglect the right make up. As it is important to dress up according to the occasion, it is also essential to do make up as per your skin tone.
Beauty expert Shahnaz Husain has doled out some excellent make-up tips for Navratri. From eye make up to lips, she explained everything in detail for the ladies to look good.
Take a look what she said:
During festivals like Navratri, there are bright lights. So, for your night make-up, you will need bright colours, otherwise your face will look pale.  
1. Foundation & Cleanser
 
First, cleanse the skin and apply a liquid moisturizer. For oily skin, apply an astringent lotion with cotton wool.  
Wait for a few minutes. Then, cover blemishes with a concealer, before applying foundation. Or, use a lighter colour foundation on dark blemishes and then apply normal foundation on the entire face. If you wish to cover a pimple or spot, it should be done before applying foundation or powder. Concealing sticks are available for this. Using a thin brush, paint over the spot with a little concealer, or lighter shade of foundation.  Then, apply a little powder.
Dot foundation on the face and blend with a damp sponge or with finger tips. Don't forget the neck. Apply loose powder, or try compact powder to set the foundation.  Use foundation with beige tones, rather than pink. I feel beige suits Indian skin colour better. If you have a very fair ivory skin, go for beige with a rosy tint. If the complexion is fair, but pale (yellowish), avoid pink tones and go for beige or biscuit. Darker complexions look better with brownish beige. I feel that most Indian skin tones look better in beige or biscuit shades of foundation, rather than pink.
Or go for gold foundation for this special occasion. Dot the face with it and blend with a moist sponge, to give the skin a golden glow. When you apply make-up, remember not to smear too much or rub it. Whether it is foundation or blusher, it is best to dot it with a light touch, using a finger tip, or an applicator. It can also be applied lightly and evenly with a damp sponge.  
2. Powder
Try tinted powders, like warm yellow tones of powder. Powder with a golden tint will also suit. It should be lightly applied. If you want a really healthy glow without the shine, go for a bronzing powder. Avoid applying too much. It should be lightly applied, using a big powder brush.
3. Blusher
A hint of blusher should be used on the cheeks. A powder blusher is easier to apply. Use it after you have applied powder. Apply on the cheeks and blend it outwards and slightly upwards. Then, apply light coloured highlighter on the cheekbones. Blend well.
Blusher colours for the night need not match lip colour exactly, but it should be in the same colour tone. For example, if you have worn an orange lipstick, avoid pink blush on. For fair skin, try pinks and reds. If you have a yellowish skin, avoid orange. For wheat complexions, colours like rose, coral, copper are flattering, while plum, wine, bronze may suit darker complexions.