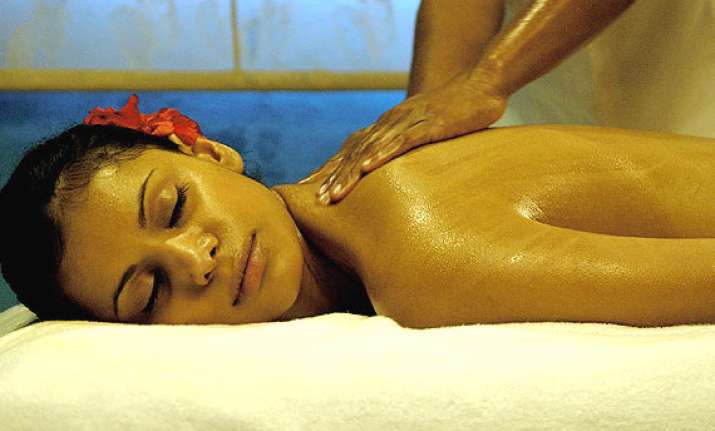 New Delhi: With the arrival of pretty monsoon in the country, time to relax, sit-back and get delved into your world of fantasies has also arrived. But, for such a serene mood to witness, you need to curb all the negativity and stress around you.
Though amid all the hustles and bustles of the life, it is almost next to impossible to step over and dare to surpass all the tensions. And that's exactly where opting for a healthy-soothing spa can help you out.
Imagine a divine fragrance comprising your mind-body and soul and you are getting drooled over such enchanted pleasure that you not only desired but required to get a few moments of piece and self analyses.
Treat yourself this monsoon with the reasonable and effective spa packages that Aura Spa, The Park Hotels has brought for you. Read on…
Shirodhara
A consistent flow of warm oil is gently poured over the "Ajana" or third eye. This oil magnifies the senses, disperses negative electrical impulses that accumulate in the forehead from stress, reverses imbalances within the body and rejuvenates the face.
Shirodhara is one of the most unique therapies available for reducing stress and enhancing cellular intelligence and immunity.
To enhance this treatment over a period of sessions please contact our Spa consultant.
Duration:  90 mins
Price: Rs 3500
Siddha Marma Massage
It is dedicated to explore the far reaches of human potentiality. Prevedic method of stimulating the marmas or intersections of the vital life force and prana or breath, this technique helps in restoring one's emotional & energy balance by releasing blocked energy.
Duration: 90 mins
Price: Rs 3500
Abhyanga
Warm medicated oil is applied liberally over the body in rigorous strokes. This massage uses a blend of eighteen herbs that rejuvenates the body and softens the skin.
Duration: 45 mins
Price: Rs 2500
Njavarakizhli
This massage begins with 45 minutes of Abhayanga. 9 varieties of boiled broken rice are mixed with warm medicated oils and milk. And then this is tied in a cloth parcel and pressed over the body to lend shine to the skin.     
Duration: 75 mins
Price: Rs 3000
Ilaikizhi
To relieve muscle strain and stiffness of the joints, warm dried herbal leaves are packed together with medicated oils and tied in a cloth parcel and pressed over the affected areas to relieve pain.
Duration:  75mins
Price: Rs 2800
Podikizhi
Similar to Ilaikizhi, crushed and powdered herbal leaves are mixed with herbal oils and tied in a cloth parcel and pressed over the body to soothe joints and nerves.
Duration:  75 minutes
Price: Rs 2800
Heated Hot Gem Stone Massage
The ancient Japanese massage art form Shiatsu is coupled with a heated gem stone therapy that harnesses the mystical properties of precious stones such as Jasper for self-preservation and Obsedian toward against negative energy.
This intense treatment relieves tension in muscles and eases lower backache and stiff shoulders.
Duration: 90 mins
Price: Rs 2500