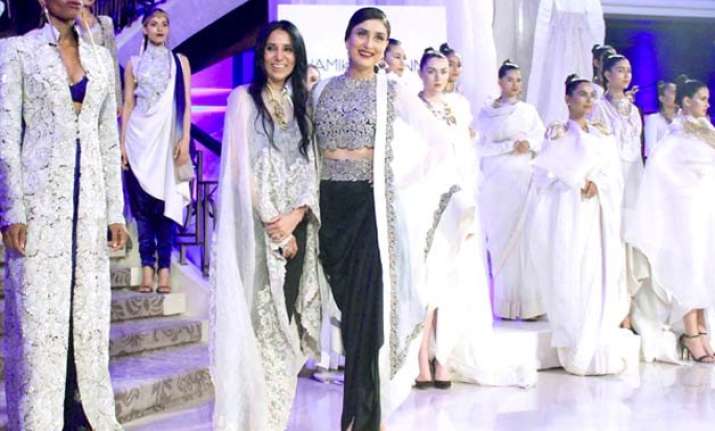 New Delhi: India's one of the most extravagant fashion event Lakme Fashion Week may have come to an end but the buzz that's doing rounds about the show suggests something else.
Lakme Fashion Week's grand finale show, which was to be presented by ace designer Anamika Khanna was to be held at Dr Bhau Daji Lad museum in Byculla, but was shifted to a Lower Parel hotel at the last moment after an alleged threat by an MNS leader.
According to the latest report by Midday, Lakme Fashion Week 2015's grand finale show was arranged at Dr Bhau Daji Lad Museum in Byculla and reportedly the fashion industry was quite upbeat about the idea, as this kind of an international event would boost the popularty of the mueseum and it was the first time that a public space was being used for a fashion event.
But merely few hours to go for the show, the event organisers changed the venue of the show and media people were informed through text messages about the changed venue.
The statement issued by Lakme Fashion Week stated, "We have moved the venue of the grand finale of Lakme Fashion Week Summer /Resort 2015 from Dr Bhau Daji Lad Museum back to Palladium Hotel due to unforeseen circumstances. The decision was taken keeping in mind the interests of all stakeholders. We are confident of a great finale like every season."
As quoted by Midday, museum trustee revealed that Byculla corporator Samita Naik's husband, Sanjay Naik, who is an MNS leader, had gone to the museum and threatened to protest against the show with 300 people.
"It's a terrible thing to happen for a political party to disrupt a major event in a city of international standards. He (Sanjay) is not some kind of a moral police for everybody. Anamika's collection was celebrating Indian garments and was not immoral. This stance of the party is equivalent to telling women to stay home and not to step out," said Tasneem Zakaria Mehta, managing trustee of the museum.
As per the schedule three shows of this 5-day long event were offsite shows - Sabyasachi Mukherjee, Manish Malhotra and Anamika Khanna, off which only the grand finale was shifted to Palladium Hotel in Lower Parel.